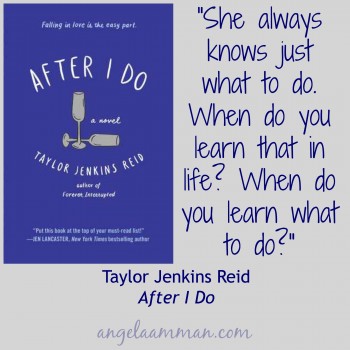 Who knew extra-curricular decisions for six and four year olds could be complicated? (Well, fine, all parents of older children who have warned me about it, but… ) The circular thoughts about over-scheduling and what we think they should do versus what they've shown an interest in doing and what about when they've shown an interest in every single possibility under the sun are tiring.
Something so inconsequential — and truly, extracurricular choices for a first grader are inconsequential — can reverse the clock until I feel like a kids wearing mom's shoes and play acting at this whole parenting thing.
Marriage can feel like that, and Taylor Jenkins Reid's After I Do is an authentic, tightly written look at what happens when two happily married people realize they're just… not.
Lauren and Ryan fell into their relationship with the easy affection of people who fit together in an undefinable way. They took a traditional, if modern, path through their relationship and were in love with each other until they inadvertently inched apart.
Faced with the possible failure of their marriage, they make a decidedly non-traditional decision about how to spend the next year. During that year, their contact is non-existent, except for a certain matter of an unchanged email password that leads to a bit of angst-inducing — but soul-searching — voyeurism.
After I Do isn't only a novel about marriage, though the relationship issues between Ryan and Lauren are real, poignant, and achingly relatable. I imagine most couples find themselves at odds with each other in the way that Lauren and Ryan do, though that drifting can be caught before anything as drastic happens as it does in the book.
Reid's story is also one about self-doubt and searching for an adulthood that feels like one's own and not one that's been defined by other people's rules. Many of Lauren and Ryan's issues seem to arise from the way they acted with each other in order to keep together the kind of relationship they had at the beginning, and one they thought they should have based on preconceived notions about marriage.
When Lauren is forced to define herself as a person and not just half of a couple, she begins to discover parts of herself she's forgotten — and parts that quietly morphed into a person she wasn't necessarily happy becoming.
After I Do is sharply written, with tight dialog and the kind of complicated, nuanced relationships that exist in most of our real lives. Reid's novel is a fun read, but it's one that has stayed with me, especially during those moments — and there are more than I'd like to admit — when I don't necessarily feel like I'm one of the adults in the house.
Do you find yourself trying to fit your adult life into previous ideas instead of defining it on your own? 
Disclosure: After I Do by Taylor Jenkins Reid was strongly recommended by a friend. Reid and her publishing company have no clue I'm reviewing this, and all opinions are my own.