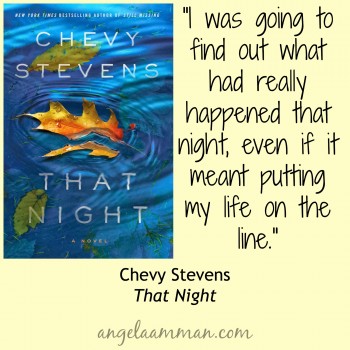 His eyes twinkle before he delivers a punchline, even the ones he doesn't fully grasp. Jokes are currency in our house lately, peppering dinner table conversation and distracting kids when they're toeing the line between afternoon and melt-down. Only recently did Dylan begin to understand not every joke began with a "Knock, knock," — even now, he'll forget and preface a non-knocking joke with a perfectly timed, "Knock, knock."
Those extraneous words let you know the joke is coming, and That Night by Chevy Stevens plays on that concept. The reader knows Toni has been convicted of her sister's murder — and that she's not guilty of the crime. As I read through the novel, I bounced between enjoyment and feeling like Stevens gave the reader too much information, too soon.
That Night dances between mystery novel and revenge story. The reader wants Toni to be vindicated for her conviction, especially as details emerge through flashback about how she was treated by family members and a group of mean girls in the time leading up to her sister's death.
A small negative in the story is how much of the plot is given away by the simple teaser on the cover and the first few conflicts in the plot. Readers who are accustomed to mysteries and thrillers will begin to piece together the mystery surrounding Nicole's death from the beginning of the story, which makes parts of the novel anticlimactic. Each time Toni interacts with her sister, with her parents, with the mean girls who make her life miserable, the reader knows what lies in wait for Toni and Nicole. Connecting with the characters emotionally can be a little problematic when their fate is fairly clear from the beginning pages of the story.
Despite the slightly heavy foreshadowing, there's a lot to appreciate and consider in That Night. I found myself particularly interested in the family dynamics Stevens portrays. With one daughter dead and another accused of the crime, the girls' parents handle their ongoing relationship with Toni in very different ways. I found myself thinking about the possible limits of unconditional love when one of your children hurts another. Readers with sisters might have an opinion about the way the relationship between Toni and Nicole is portrayed — there's definitely a sense of jealously and conflicting loyalty between the two of them, particularly when Nicole begins to spend time with Toni's tormenters.
Later, Stevens repeats the struggle between mothers and daughters with a tense relationship between one of the mean girls and her own daughter, bringing another layer of complexity to the emotional relationships between the characters.
Another relationship that weaves through the story is that between Toni and Ryan, her high school boyfriend. From the time they meet, Toni is unwavering in the belief that their love was strong enough to withstand anything. As That Night progresses, Toni's feelings for Ryan remain steadfast, despite their time in prison and the conditions of their respective paroles. The final question I was left with was whether Toni's feelings are truly abiding love or simply a failure to mature past her high school years.
That Night has a tightly woven plot, despite containing some easy connections for readers who are familiar with the genre. With all of the questions about the relationships between the characters, Chevy Stevens' novel would be an interesting choice for a book club looking for a quick read with lots of discussion possibilities.
Have you ever participated in a book club? How did you select the books you read?
Disclosure: I received a copy of That Night for consideration for review. All opinions are my own.