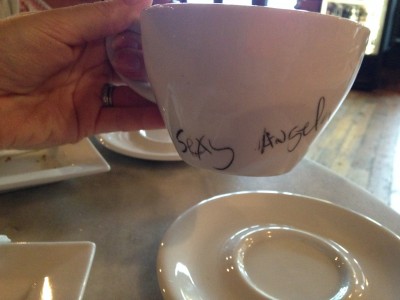 I rushed into The Great Lakes Coffee Company for the first time when we were working on Listen to Your Mother. Our second day of auditions took place there. I was running late in the way I tend to be when juggling child-free scheduling — not exactly late but sliding into where I need to be with only breaths to spare.
I ordered something lavender that morning, thinking it sounded calming.
Angela — one of my partners-in-LTYM, not myself in the third person — ordered a Sexy Mexican, and I've ordered the spicy, warm coffee every other time I've gone there. We stopped for a coffee before attending the Fathers and Figures show from The Secret Society of the Twisted Storytellers. Wine and beer are on tap there, too, but with a 10K in the morning and all sorts of plans the rest of the weekend, we sipped coffee and ate dessert and finally managed to get to a Twisted Storytellers show with time to spare.
Our weekend was crammed full in the way weekends tend to be in Michigan. With a winter that practically froze us permanently into puffer jackets and a spring that threatened cold with every gust of wind, we soak in our summers around her. Barbecues and road races and storytelling shows and a book signing by one of my favorite authors.
Sunday night found me with heavy eyelids and tired legs, but Friday was filled with sparkling expectation for the days ahead. We settled into chairs, wrapped hands around mugs, and took the time to laugh at the shorthand for our orders. For thirty minutes or so on Friday night, we both boasted Sexy Angela mugs, and it felt amazing.
Summer schedules are my favorite — family time and friend time wrapped in lazy mornings. I have one child who gets dressed immediately and another who needs to be dragged out of pajamas, but we're all working with an implicit understanding that we won't complain about the heat.
My workout awaits me in the morning, so I'll let my eyes close tonight. I'm already looking forward to my coffee mug in the morning, even if I know it won't be calling me sexy.
Do you have a lot planned for the summer?