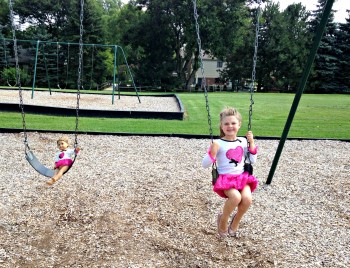 Disclosure: This post is sponsored by Invisalign. All opinions are my own.
No matter how much she "wiggles" her bottom teeth, Abbey's baby teeth are still firmly in place. Always interested in things that I think should be years away, she asked about braces the other day. I answered yes, I'd had them when I was younger, and no, she didn't need to visit an orthodontist yet.
I guess I deserved the indignant sigh I received when I told her she was too young to worry about straightening her teeth, because Invisalign set me straight — get it? straight? — on that issue.
Myth — I don't need to take my children to see an orthodontist until they're teenagers.

Setting it Straight: The American Association of Orthodontics recommends taking children for their first orthodontic check-up no later than age 7. The American Dental Association says this is because, "Your child's dentist can spot problems with emerging teeth and jaw growth early on, while the primary teeth are present."
Seven? That means we're going to have to think about scheduling a consult much earlier than I anticipated. Though I know things have changed since I wore braces eighty-million years ago, I have to admit the idea of using something like Invisalign instead of traditional braces is really appealing.
While I love the results of those long-ago, brace-wearing days, I cringe at some of the memories of those days, like my cheeks snagging the metal brackets or the torture of attempting to thread floss between the wires.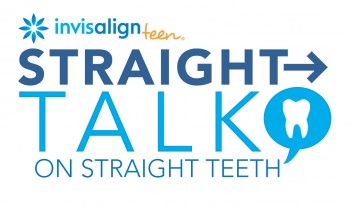 Invisalign Teen wants to make it easier for teens — and pre-teens — to have a straighter smile.
Invisalign Teen clear aligners are removable and can straighten teeth without a mouth full of metal and all the disruption and sacrifice that comes with it.  With Invisalign, teens look better and feel more confident than they ever could in traditional braces.  Take the Invisalign Smile Assessment to find out if Invisalign is right for you or your child.
Since we haven't even had to determine tooth fairy rates yet, it's hard to believe straightening teeth is even on the horizon. Thanks to Invisalign, I'm happy to know there are alternatives to traditional braces — and since I'm a planner, I like that they've put together this Straight Talk: Smart Path to Straight Teeth infographic about the timeline for pre-teen and teen orthodontic work. I wonder if we can get a discount on a mini-Invisalign for Dolly?
Have you done an orthodontic consultation for your kids yet?
Check out Invisalign on Twitter and Facebook, and be sure to enter for a chance to win a Free Invisalign Treatment (sweepstakes ends on October 1, 2014.)