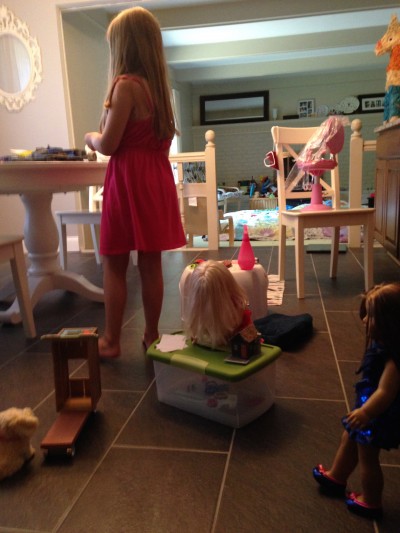 She paints with broad strokes and big ideas, and she makes messes I struggle to let be until she's finished with one of her games.
Our house has been in chaos, renovations on top of renovations, and there are too many things in too many places. The kids see it as an adventure — beds in the playroom! — and maybe a chance to get away with tossing toys in random corners because I can't tell the difference.
In a house where the kitchen had the only clear walkway from room to room, I hadn't wanted to let the doll salon last more than five minutes. Still, I consented to a tour, where my girl pointed out a doll waiting for an appointment, where another checked in both the doll and her pet. At some salons, it seems, girls can bring their dogs for services as well.
The detail in the salon caught my breath a little. In my rush to do something else around the house, I hadn't noticed her cutting small pieces of paper for "tickets" or the way she'd painstakingly placed a towel on the floor or procured a piece of plastic wrap for the hair cape to keep the water from dampening the dolls' clothes.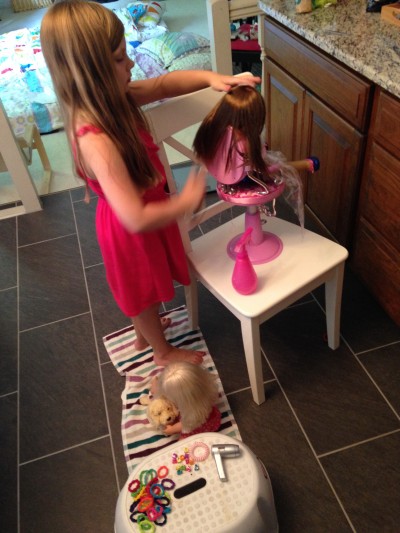 The doll salon stayed. After dinner we took it down together, carefully separating what she wanted to keep from what could be recycled, sorting hair supplies into storage bags. I marveled at the careful way she took care of her dolls, remembering the tips she'd heard and read online.
I paused, amidst the chaos, and remembered all of the work we're doing on the house is in the interest of creating a home, a place for them to feel safe and secure and loved.
Some days a home needs a doll salon.
Things are being put together, slowly or with quick flurries that involve climbing the same stairs again and again. Furniture is back where it belongs. Walls are painted. The small things remain — organizing, figuring out what to do with stuff from closets that piled onto each other as Dylan played musical bedrooms, wooden trim. Those things, those little things, probably won't get finished with the urgency of the bigger things, and that's ok.
We will go to the playground to swing and finish the never-ending laundry of summer. We will walk into our home and be grateful for the people inside, for the dolls, for the mess that makes it ours.