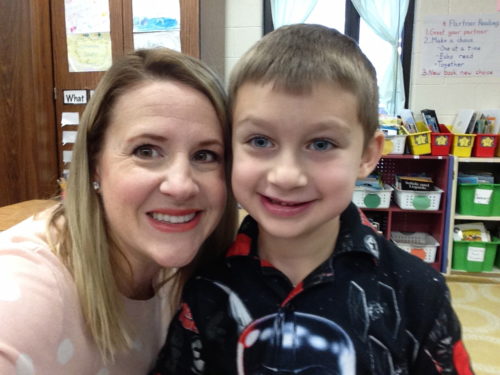 Dear Dylan,
Nipping at the heels of Christmas, your birthday sneaks up on us each year. Since you entered the hustle and bustle of elementary school last year, it seems even more stealthy. I take down the Christmas tree, nag you and your sister to put away the holiday gifts still lingering in the living room, and suddenly you're moments away from being another year older.
Lately, everyone we see comments on how tall you're getting. Yet all your limbs and laughter still curl into my lap when you feel like it, which can be during story time at night or while I'm volunteering in your class on Thursdays. Your logic and your heart collide all the time; an innate sense of justice crashing into your love of making people laugh.
You love Star Wars and LEGO (so much LEGO, all day, all the time), and you've taught me imaginative play doesn't always look the way your sister showed me.
The breadth of your memory catches me off guard at times. We recently re-read Harry Potter and the Sorcerer's Stone together, a book you first listened to while flipped upside down on a bed or playing with toys during the longer chapters. Your eyes lit up as you talked about your favorite upcoming parts — your most loved scene is still Ron beating McGonagall's chess game — and remembered small details I never would have expected.
Yet you rarely remember to turn off your bedroom light before barreling downstairs in the morning.
A few weeks ago, a friend came to your karate class with you. The raucous car ride produced so much laughter, so many inappropriate first grade jokes, and innumerable reminders not to hit each other, and I wondered if it had been a mistake to participate in bring-a-friend day. The two of you entered the classroom and immediately calmed, showing attention and respect the entire time.
Two seconds after you exited the room, someone made a fart joke. You raced each other on the indoor track and didn't stop filling the car with noise until we dropped off your friend.
I have a million wishes for you, but one of the strongest is that you never lose sight of the joy you find in life. I hope you always weave together integrity and laughter, because those qualities will never steer you in the wrong direction. Happy seventh birthday, my cuddly, literal, kind-hearted, smart-as-a-whip little boy.
All my love,
Mama