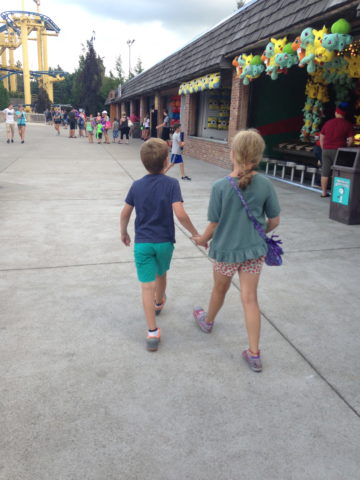 Gratitude list: Holding hands
Day twenty-nine is a misnomer, really. I fell behind, and then we lost our beloved Nan. I didn't feel much like writing for a few days. Those days stretched forward into the last sputters and bursts of summer days, and I stayed away from this space. I missed it and returned and hope to be here more frequently in the fall. Maybe not daily, though, because that feels like pressure instead of joy.
They don't always walk in step. Especially as August days dwindle into September, with summer camps behind us and the looming routine of school ahead, they pick on each other. She vacillates between child and tween, and he's not always sure which sister he'll get when she speaks. He vacillates between the obedient little brother she's always known and the goofy but focused person coming into himself. She isn't accustomed to his assertions of independence any more than he is to making them, so they clash and crash seemingly minute to minute.
Yet they dance back to each other. They sing and stage Hamilton numbers and ride bikes, play board games and incorporate LEGO and American Girls into the same games so they can play together. I can see their relationship knitting together in a way that doesn't belong to me at all.
I yearn for them to find that footing. It breaks my heart to be outside it.
My heart pieces itself back together and grows even more full when I see moments like this, hands held without us urging it.
Not too long enough, hand holding felt like a lifeline. Stay together. Hold mama's hand. OK, hold your sister's hand. Don't walk too far ahead. I need to be able to see you. Stay together. Stay together. Stay together.
I still yell that at times, as they careen out of sight on bikes or weave too far ahead of us in a busy place. I saw it less, though, and see them doing it on their own, the togetherness. They enjoy each other in a way I couldn't force if I tried but feel so lucky to witness.