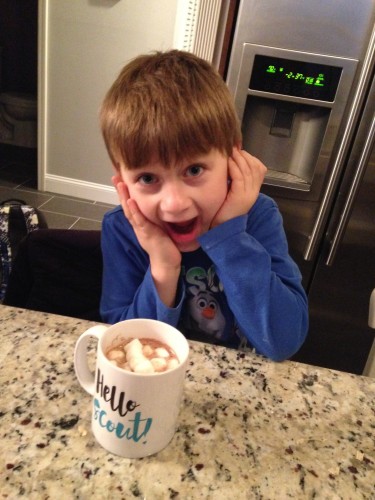 We all need a pause button lately. The four of us are running around like crazy, sliding schedules together with eyes squeezed tightly, crossing our fingers that we somehow end up where we need to be on time. Days before February draws to a close, we're being forced into a little bit of a break. Snow tumbled to the ground today, flakes so large I could hear them fall against the window next to where I was working.
Abbey ran from school in a flurry. Icy flakes coated her hair by the time she reached me, snow pants on, gloves and hat in her bag, an impatient shake of her head when I handed her the hat.
Breathless, she named the litany of things they could do to increase their chances of a snow day: pajamas inside out and spoons under pillows, ice cubes flushed and crayons on windowsills.
They needed have worried. The district cancelled school for tomorrow long before I began making dinner. I filled mugs with cocoa and marshmallows when they wandered in from playing in the snow. The fresh air would hopefully counter the infusion of sugar so close to bedtime.
It's our first snow day of the year, so close to March we can see it. Yesterday, I wore sunglasses and left my coat in the car when I walked into the dance studio.
They still wanted to wear their pajamas inside out tonight, and I — of course — said yes. Michigan weather is tricksy, but we're embracing it, grateful for the pause button pressed on our week.