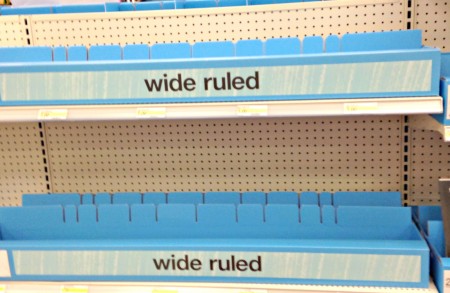 The real countdown to the first day of school became obvious when we scrambled over to Target for a few things on a school supply list that changed this week. I'd thought I'd finished ahead of time this year, but I should have known the premature self-back-patting would come around to mock me. Still, the changes weren't major, and I'm not going to complain about another chance to wander the school supply aisle.
Michigan public schools start after Labor Day, which is apparently one of the last start days in the whole Facebook universe, so I expected to have trouble finding the exact colors of the notebooks we needed, but this made me giggle. I left Target without notebooks but with a few other things — of course — and found the rest of what we needed at Staples.
The shelves, though, they remind me of how my writing's been lately. The words are there, but they're in my head or in notebooks. We're squeezing the sunshine out of summer, and I have other work deadlines, and I don't think many of my words will hit the screen anytime soon.
I'm ok with that, for now. Everything changes next week when Dylan steps into a kindergarten classroom.
I'm going to have to be ok with that, too.
For now, it's empty shelves and lots of the Annie 2014 soundtrack and LEGO building and sweaty bike rides and getting sprayed with the hose.
The inevitable end of summer looms, but I'm starting to catch a glimpse of the beauty creeping near the horizon of fall.