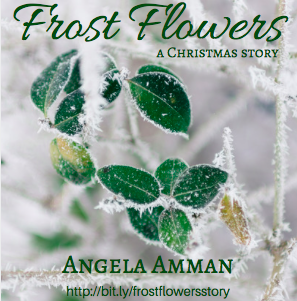 Continued from Part Four — or start at the beginning
Joni knew she shouldn't let it get to her. Even before her job at the store, she'd worked enough retail jobs to understand the mentality of shoppers as the holiday rush intensified. From her first job as a greeter at an ultra-preppy mall store to the teeny boutique she'd worked at for a few months in college, shoppers acted the same way. So when the fifteenth person of the day lamented loudly about how close Christmas was, Joni wanted it to roll off her shoulders. Instead, they curled higher and higher until they practically crowded out her ears.
To Joni, who bought presents for only a handful of people and who baked even less, the holiday season stretched in front of her like an ocean she'd never cross — a loud, frantic ocean that would shove her out of the way for the last snow-tipped poinsettia wreath.
She took over a register from one of the seasonal staff members, and the resulting smile made her feel marginally better until a customer insisted on looking for her emailed coupon for at least four of the twelve days of Christmas.
"Ma'am," Joni said, the address tentative. The rebuke from Gabriela weighed on her mind, a sore spot in a long series of irate customers. She returned to it more than she'd like to admit because it meant returning to the charming dimples accompanying Grady's smile. Only an impatient cough from one of the customers in the growing line pulled her from thoughts of that smile.
"Ma'am," Joni repeated. "I can just scan one of our coupons."
"No, thank you. I know it's here somewhere, and I really want those reward points, you know? I'm in here so often, and — oh! Here it is. No, that one's expired. Just another minute," she said.
Joni's shoulders rose higher and her customer smile hurt her cheeks. Out of the corner of her eye, she could see other customers stepping up to registers and finishing transactions while she waited. Finally, the pesky coupon emerged from email purgatory and Joni scanned the phone. The savings of under two dollars seemed paltry compared to the time spent, time crawling toward the end of her shift. She handed the receipt and the bag across the counter, her eyes already on the next person in line.
"Thank you, dear," the woman said. Joni looked back at her. The face staring back at her smiled, not just the lips-lifted smile Joni practiced all season, but a smile that crinkled eyes. "I know you didn't have to wait for me to find that silly thing, but I appreciate it."
"Oh, it's nothing," Joni said. She curled her hands into tight balls and found the pockets of her smock.
"No, dear, it's not. It means a lot to be kind," she said.
Joni opened her mouth to answer, but nothing came out, so she just nodded. For the first time she wondered if the reason she had so few wrinkles had anything to do with how rarely she truly smiled. Regret bloomed in her chest, but she pressed it down until it could consume her later than night, keeping her awake. Polly walked up to her register, pointing the next customer down the line to an open terminal.
"Hey," she started. Her voice sounded conspiratorial. "That guy's back from the other day — and he asked for you."
Joni flushed. "What?"
"I know! He's asking if you design centerpieces," Polly said. "He needs wedding flowers."
Joni's heart plummeted. Disdain for herself for picturing his eyes and smile countless time flooded her gut.
Polly rewound her words when she noticed Joni's face. "Oh. No. I'm talking too fast again. He asked if you did wedding flowers, but he's not here with his fiancee, he's here with his sister. A different one this time. She seems nicer."
Her heart righted itself in her chest, and she felt something else there, too. The smile lifting her lips continued to her eyes this time, and she felt the crinkles there with her finger. She felt hope.
to be continued…