I ordered my Christmas cards early this year. I felt so accomplished when they arrived amongst a flurry of other boxes, but they're still not completely addressed, and I haven't bought the stamps. We had our tree up early, but I still need "white stuff" for the Christmas village, and I've moved it three times on my to-do list.
Basically, I'm running holiday errands in stops and starts this year, and apparently book reviews are in the same vein. Here are three books I've read in the last couple of weeks, and why you might want to pick one up the next time you need to do a little holiday procrastination.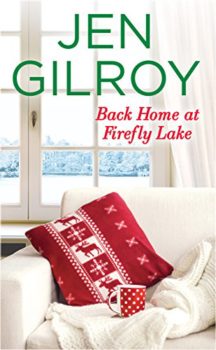 Back Home at Firefly Lake by Jen Gilroy
I reviewed the second book in the Firefly Lake series and knew I wanted to read this cozy-sounding third book. In the midst of a busy month — or months, if we're being honest — sometimes I just want to curl up and escape into someone else's world. Jen Gilroy's Firefly Lake offers the charm of a small town, with all of the complications arising when lives twine together between childhood and adulthood.
Cat McGuire comes back to her childhood town with her daughter, Amy, in tow, a research grant in hand, and one foot already out the door. Luc Simard is back, too, with a loss weighing heavily on his heart. Cat and Luc collide almost immediately when Cat's daughter finds her way onto the boys' hockey team Luc coaches. Their attraction sizzles from the beginning, though they were only friends growing up.
Of course, things get complicated.
I appreciated the way Gilroy weaves this story around the families she's already introduced in her world, and the way she makes Amy's story as much a part of the narrative as Cat and Luc's. Returning "home" after being gone for so long makes Cat feel like she doesn't belong, and I think that's something everyone can relate to as we navigate the holiday season. Even though contemporary romances, by virtue of their genre, offer readers a happily ever after, Gilroy's focus on the journey of getting there feels warm and authentic. She reminds readers happy endings don't always look the way you — or her characters — expect.
Good as Gone by Amy Gentry
While picking up a library hold, I wandered over to the New Releases section and grabbed this thriller. When a missing — and presumed dead, really — girl comes back home eights years after she's abducted from her home at knifepoint, a family struggles to find its footing. Like many trending thrillers, Good as Gone flashes between the present and the past, but I particularly enjoyed the way Gentry structured the novel. Anna and Julie move forward, with Anna trying to discover why her daughter seems to be lying about what happened to her — if this Julie is her Julie at all. At the same time, Julie's past unfolds in layers, pulling back from the present a little at a time to see how and why she ended up on Anna and Tom's doorstep. The reader and Anna race each other to the truth, and even though parts of the conclusion seem inevitable, the journey to get there feels taut and urgent. I appreciated the way Gentry used family dynamics to drive both motivation and plot in the book.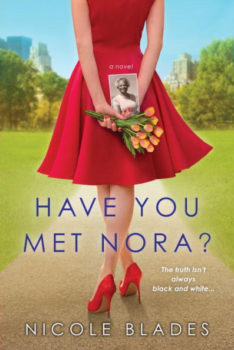 Have You Met Nora? by Nicole Blades
From the outside, Nora Mackenzie lives an awfully charmed life. Elegant, blond, and successful, she's engaged to be married into an established, wealthy family via a gorgeous man she truly loves. Why, then, is Nora guzzling champagne while cowered in the cavernous bathtub in her guest bathroom? The daughter of a black, Caribbean mother and white father, Nora's world fell apart when she was abused by her mother's employers, who later adopt her when she's orphaned. Shuttled to an exclusive boarding school, Nora learns how much easier it is not to talk about her real mother — or her heritage.
When an old enemy threatens to expose Nora's secret, weeks before her marriage, Nora teeters between truth, lies, and running away to reinvent herself once again. Readers will both cringe at and sympathize with Nora's reluctance to confide in the people who love her and her cool mood swings, as she must decide how far she's willing to go to keep her friends and almost-family in the dark about her past. Have You Met Nora? provided a fun escape into a different world than the one I'm used to. I enjoyed the drama and intrigue of seeing into the upper echelon of New York society, and I couldn't wait to get to the end of the book to see how Nora would deal with the threat to a life she put together so carefully.
Disclosure: I received copies of Back Home at Firefly Lake and Have You Met Nora? in consideration for review. All opinions are my own.