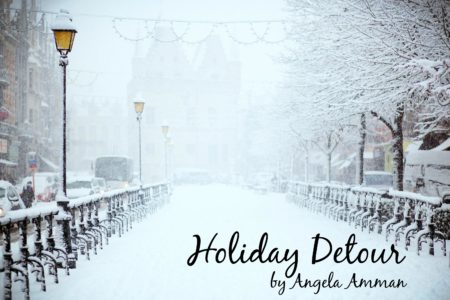 Continued from Part Eleven — or start at the very beginning with Part One. Thank you for your patience this year!
Margot spread her hands on the table in front of her, eyes resting on her wedding with a goofy grin that wouldn't leave her face. Vance followed her eyes and traced the band with his finger.
"I guess I should be glad you didn't toss this in the Mississippi, huh?"
"Don't be melodramatic," Margot said, still smiling, "I would have sold it and traveled the world."
"Speaking of," Vance started, his brow furrowed as he clicked around the phone nestled in his palm, "I don't think we're going to be flying out of here tonight."
Margot didn't bother to confirm his words. Emotional whiplash should have rendered her exhausted, but Vance's news held the promise of a future she hadn't been sure she believed in any longer. Adrenaline and contentment battled in her brain, but though she couldn't stifle her yawn, she couldn't imagine falling asleep either.
"Christmas in Chicago?" she asked. They'd been to the city in another lifetime, back before they flew across the country more frequently than they spent time at home.
"Maybe," Vance said.
Margot recognized the noncommittal tone. "Or?"
"Well, I know we're expected home at some point," Vance said.
"Some point like tomorrow," Margot said. "Christmas Eve and then Christmas, remember?"
"I know," Vance said.
"But?"
"Well, you asked what we were going to do, and I've actually been thinking about it a lot," he said.
She wasn't sure if she wanted to hear what he had planned.
"Do you remember Josh?" Vance asked.
"CPA Josh or cage fighter Josh?" Margot asked.
"CPA Josh," Vance said. "Though I'm pretty sure cage fighter Josh gave that up about three years ago and went to the police academy in Atlanta."
"So, why do I need to remember CPA Josh? Didn't he disappear into some little town upstate?"
"Not exactly. Little town, yes. But it's not too far from our place, actually. Drivable, for sure. On the water."
The ease with which he spoke of their little apartment settled comfortably in her chest. "And Josh has something to do with what you want to do next?"
"He wants to open a finance firm. Small. Maybe firm isn't even the right word. But he wants to help local businesses manage their money, and he needs help. He's good with numbers, better than anyone I know, actually. But he's helpless with all the rest of it, the tech, the promotion, the daily running of a business."
"And we can do that," Margot said. "We're kind of fantastic at that."
"We are, indeed, fantastic at that."
"We'd have to leave Buffalo?"
"It's an hour away, I think, we can map it out. Maybe we could commute for a while," Vance said.
Margot thought about their apartment. She could barely picture what they'd put on the walls. The only thing she could conjure was the smell carried on Vance's hair.
"Or maybe we could try something new," she said, reaching to bury her face in his neck.
Vance's eyes brightened. "I don't want to make a decision without weighing all our options. But I had this idea that maybe we should ditch the return flight and just rent a car and drive over to this little town and see how they do Christmas."
Surprising herself, Margot smiled and laced her fingers through Vance's. "Let's do it."
"Really?" He asked, and for the first time in countless long months, she felt her stomach flip with excitement about the future.
"I think," she said, slowly, "if we're together, anywhere might feel like home."