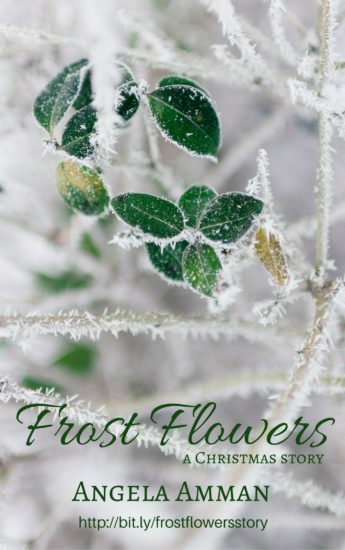 Continued from Part Eleven or start at the beginning…
Joni picked at the skin surrounding her thumbnails and waited for Grady to bring her shoes to the car. After a few minutes had passed, she took a deep breath and pulled down the car's visor, wiping the mascara from her face then sitting on her hands. With each moment breathing cool sense against her skin, she felt calmer and more than a little chastised. The only person putting pressure on her had been, as usual, her. Regret, it turned out, felt worse than indignation.
She'd left her phone in Grady's cupholder, and she pulled it into the cradle of her hands, scrolling through the pictures she'd sent to Gil as she experimented with just the right look for the flowers. The thought of bringing other brides' floral visions to life terrified and elated her, and she wondered if she'd completely ruined the opportunity to try.
A knock at the window shook her from her own head, and she startled when she saw Ginny smiling at her through the glass. Grady stood just over his mother's shoulder, and he shrugged a little smile at her when she caught his eye. Unsure what to do, she opened the door to where Ginny held out her shoes in one hand and coat in the other. A fluffy bundle of dark fur wrapped her in its cocoon against the cold.
"I brought your things for you," Ginny said. "Grady found me and quietly let me know you felt a little overwhelmed. I wanted to come out myself to talk with you."
"Not much stops my mother," Grady said, raising his eyebrows just enough that Joni felt an urge to laugh at the absurdity of the entire situation.
"It didn't occur to me until this very moment that if you felt overwhelmed inside, my hustling out here to talk to you just might make things worse," Ginny said. Still, her gentle smile stayed on her face, and she didn't make any motion to leave.
Sliding her plaid heels onto her feet felt even more awkward with the door to the car open, everyone waiting for her. Joni held out the once-cozy slipper, cringing a little. "I'm afraid I ruined these."
"Oh, don't worry for a second about that," Ginny said. "I've got so many pairs of those you could take three, and I'd never notice. Those shoes of yours would have been ruined in the snow and salt, too. Completely impractical, if I do say, which was the first sign you'll fit right in with us."
Joni blinked. Grady's mother spoke as though she wasn't slinking away from the party before it had even started.
Ginny nodded before continuing. "Yes, in a house with six women, none of us ever figured out how to purchase practical shoes. Why do that, when there are so many gorgeous, impractical ones just waiting for you to wear until they hurt your feet and make you so glad to have a pair of slippers to come home to?"
Joni blinked again. Ginny still held her coat.
"I might not always have exactly the right thing to wear," Joni admitted, thinking of the work smock and the countless cozy leggings lining her drawers, "but I do adore an impractical pair of shoes."
Ginny smiled wider, as though that changed anything — or everything — at all.
"Of course you do, dear. And impractical hair, though I must admit I would love to try a shocking pink myself one of these days. There's something exciting about impracticality when you're always doing the safe thing."
"Do you know what frost flowers are?" Ginny asked.
Joni's brow furrowed at the unexpected question, and she shook her head. "No, I'm afraid I don't."
"Sometimes, the weather gets cold before the plants expect it," Ginny said. "And ice forms from within the heart of the plant, making its way into the open air. The ice curls and winds into beautiful furls. They look like flowers, beautiful flowers forming when you'd least expect it, before the plants were ready for ice."
Joni searched Ginny's face for a deeper meaning, but her smile stayed exactly the same.
"We'd love for you to come back inside, you know," Ginny said. "I can practically guarantee no one's even noticed you disappeared. My grandchildren offer quite a distraction, as does Grace, who's shocking my poor husband by pretending she's going to defer her admittance to Brown in order to backpack the world."
Joni held onto her smile for just another breath, scared to look toward Grady and see he didn't second his mother's invitation. She needn't have worried. He raised his hands in submission.
"I told you, not much stops my mother," he said.
"I'll see you inside," Ginny said, stepping away from the car with a satisfied nod. "I'll just hang onto this coat for you so you can't decide to change your mind before you get there."
Grady looked less sure of himself than Ginny had as he held out his hand to Joni. She reached for him, wondering how to convey how much she appreciated the unconditional welcoming of his family. He closed the car door behind her, and she let herself rest in the circle of his arms.
"I overreacted," she said.
"Probably," Grady agreed. "But I misjudged the situation. I thought you'd be excited about the opportunity."
"I am," Joni said, her words tumbling in a rush before she could stop them. "I just needed time to realize it."
He smiled, dimples deepening, and she thought she could stay in the cold forever if she had that smile to fall into.
"Perfect. Now you just need to act surprised when Gabby brings it up," he said. "After all, it will make her ecstatic to take some of the attention away from Grace."
Joni shook her head, thinking of how her own family dynamics paled in comparison to the house they'd be walking into in just a minute, drama and sisters and running toddlers tumbling together in a way that made her outburst feel almost normal. Almost.
"I'm sorry," she apologized.
"You said that," he said.
"No, I admitted overreacting," she said. "I want you to know I'm sorry about it."
"There's a distinct possibility you won't be the only person to cry tonight," Grady said, pulling her closer to him. "My oldest niece has brought more than one of us to tears."
"I'll steer clear, then. I don't plan on any more tears tonight," Joni said.
He lowered his face to hers, lips warm and welcoming against the cold. "That's the spirit. After all, if you think this is overwhelming, just wait until you come to Christmas Eve."
He pulled her toward the house before she could figure out if he were joking. Joni let herself follow him, let herself laugh at the possibility of spending Christmas with Grady instead of alone in her apartment. Knowing another pair of slippers waited for her inside made her feel, just a little, like she was coming home.
The End