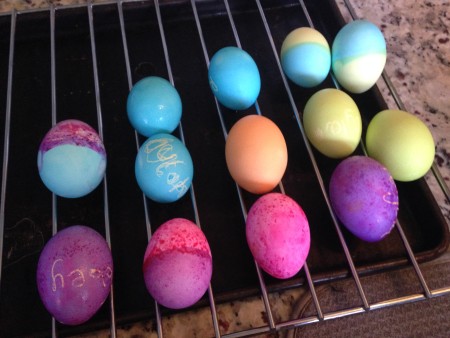 We colored eggs for the first time on Abbey's second Easter. On her first, she was barely able to flip from her back to her stomach, and we dressed her in a cuddly bunny onesie and cozy white pants.
For this milestone, this coloring of eggs, I dragged her little picnic table into our littler kitchen and spread brown paper bags underneath its legs. Each color dye filled a clear cup, the best way to see the eggs seeping into candy shades, and the most uniform way to photograph her first egg-dipping experience.
I stripped her to a white onesie, chubby legs bare, in an attempt to save her clothes from permanent stains.
I didn't know then that very few things are permanent.
This year, during our coloring of the eggs, Dylan wore a Frozen t-shirt adorned with a smiling reindeer, and Abbey wore a rhinestone studded camouflage t-shirt she got as a favor from a friend's birthday party. My dye cups didn't match: lowball cups we registered for at our wedding and daisy-encrusted juice cups I finagled from my Grandma Rose's house.
My dad remembers drinking out of them at their first home in Detroit, before they moved to the only house I ever knew to be my grandmother's. She's gone now, and I don't remember drinking from the flowered cups at her dining room table, but I think of her each time we use them anyway.
We lost Ryan's grandma last week, a woman who hugged me like she knew and loved me the very first time we met. She hugged me that same way each time I saw her, and we don't always realize how important a hug can be until we know we won't feel that exact grip again.
I hadn't seen her since Christmas; the days and weeks slid into months, and a quarter of the year is already gone.
This year, the kids and I dyed eggs in the overcast light of a cold, spring day, and I didn't worry about protecting our floor or our counters or their clothes from stains. They're quick now, using fingers and spoons and wiping both on paper towels so the colors don't bleed too much on the eggs, though all six of our hands were stained by the time we finished.
The color faded within a few hand washings.
Very little is permanent, and I'm beginning to wish for another chance to stain clothes, to breathe in their hair on this exact day, because tomorrow they might smell just a smidge older. I hug them tightly when I kiss them goodnight, three, four, eleven times, so grateful for the giggly grips of their hugs and the imagined hints of pink and green staining their nails.