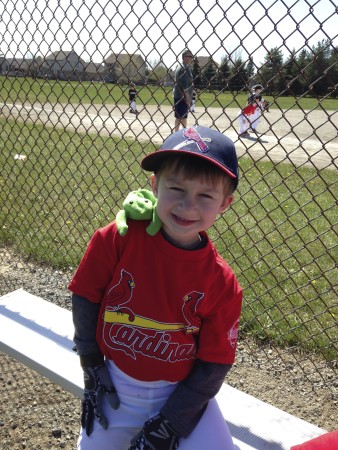 When the "Star of the Week" schedule came home at the beginning of the school year, he was appalled he'd have to wait until the end of the year for his turn. I explained that someone had to be last, secretly grateful not to have to hurry to put together a poster while we were still adjusting to a full day of school, to eating lunch in gulps and swallows, to a new way of life.
I glanced at the list at different times during the year, knowing how dates can creep up when you're not looking. I didn't want to be caught unaware, scrambling to find photos and poster board on a Sunday night. Each time, the date seemed comfortably far enough into the future that I didn't worry too much about it.
He finally brought home the Star of the Week bag on a Friday, a bag containing the class pet and its adventure-chronicalling journal, a jar for an estimation game, and the intangible reminder that the end of the school year is approaching quickly.
I'd known it was coming, but diametrically it seemed both too soon and not soon enough.
This year looks different than I had expected when we were buying school supplies and talking about kindergarten last summer. I'm working more than I'd planned, in part because of a contract position that won't last forever, a job that brings pride and anxiety for someone like me who has her calendar color-coded months in advance. Our house is unorganized, and I haven't even had the time to put away all the gloves and hats, though flip flops and swim goggles are intruding on their territory.
April, and now May, came in a blink.
I feel caught by surprise, though I shouldn't be. And though it came too fast, I find myself wishing the next few weeks away, yearning for days where I don't have to make lunches and snacks and check bags to make sure they're actually turning in the homework we do together at the island.
Before school started, I set up a desk in their playroom. It's covered with LEGOs and pencils and craft paper, and I don't remember the last time they did homework there.
I find it hard not to blame myself for the chaos.
Despite the disorganization and the missing snack bags surrounding our almost-end-of-the-year mood, Dylan reveled in his Star of the Week status. We tucked little Hoppy into bags and onto shoulders and chairs as we went to soccer games and t-ball games and the grocery store.
I worried we'd forget him, somewhere, but we never did. We manage, most days, to keep track of the things that matter. I'm still planning to rein in the chaos and rediscover a little bit of the organization that makes our home operate more smoothly.
Summer will be here soon, and there's always time for fresh starts.