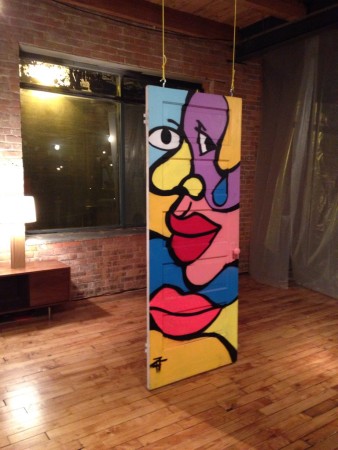 January's been a bit crazy around here. Both Ryan and I are juggling a lot, and he got a little sick, and now I seem to have it. I wish I could say I'm taking it in stride, but I'm struggling to be a rational adult at times. The new year brings out the goal-setter in me, and having things fold on themselves a little only three weeks into the year frustrates me.
The most inspiring part of the past few weeks actually involved the idea of failure, which I'm trying to internalize, instead of just appreciating how it affected others. I went with two friends to a #FailureLab storytelling event, hosted by Creative Many and Michigan House.
The night held that special combination of magic and inspiration I always find in storytelling shows — my own or other people's. Throw in a dream loft location, colorful door art, giant scrabble tiles, and a couple of swings, and I truly felt rejuvenated and excited after leaving.
#FailureLab involves three storytellers talking about an instance in their lives when they failed at something, something that was important to them. One of the keys to this particular storytelling format is the storytellers don't synthesize their experiences and speak on the lessons they learned or how they overcame their individual failures.
Getting sick and missing some runs and not hitting some writing goals isn't exactly failure, but it irks me, sliding under my skin and reminding me of all the other times I've made — and missed — goals.
I'm trying to make good decisions right now, accepting how I feel, not pushing too hard, and trusting I can buckle down in the upcoming weeks to catch up on some missed time. Instead of thinking about the last few weeks as seeing a door swing closed, I'm trying to concentrate on remembering where the knob is, so I can push it open when I'm ready.
Speaking of storytelling shows, auditions are open for Listen to Your Mother Metro Detroit 2016. Please come tell Angela and me your story! We love hearing them, and we know you have something to share with us.