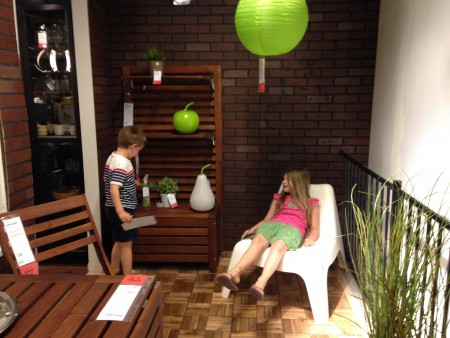 He's waited for her to be done with school since mid-May, though I'd be lying if I said "waited patiently." Practically the moment she emptied her backpack for the last time as a first grader, they began the complicated dance of adoring each other and needing space from each other, often within the same 30-second time frame.
She's the cruise director in their relationship, and this is the first summer he's pushed back against her detailed ideas about what they should do and where and for how long. Unsure how to deal, histrionics ensue. Separation is futile, because they circle each other like planets; their relationship has its own gravity.
Pretend play often provides the only common ground.
Her imagination has always crafted worlds in which they've escaped, but now that he makes a conscious effort to build his own narrative around hers, they're making magic. Even during a trip to IKEA they easily fell into a multi-layered game where the little staged apartments and patios became soap opera sets.
I marvel recently, shocked at how much easier certain things are becoming. When I needed to load bar stools onto one cart, they helped push the one I'd filled with those nonsensical things picked up in IKEA aisles — LED light bulbs that may or may night be the right size, two more RIBBA frames, note cards — even though the carts do that weird thing where they can move in all directions instead of just backward and forward. There was only a pushed out lip instead of tears when I denied the fervent plea for more stuffed animals to add to their menagerie. Our post-shopping $1 cones only required napkins and a wet wipe instead of a bath.
Not everything is easier, of course.
Worries are bigger, and tempers flare over unexpected things.
Still, when we got home and I realized those purchased bar stools were the tall version when I needed the shorter ones, Abbey knew where to find the packing tape so I could reseal the boxes. She held the flap while I taped, her brow furrowed in thought.
Minutes later, their heads were touching as they whispered and bustled, and a puppet theater arose. The antics of the duck and the grasshopper, freshly borrowed from the library and unestablished in personality, were haphazard and nonsensical. Laughter bubbled between the three of us, pulling us together and lessening the tension of the added task of exchanging the stools.
Pretend play might save us all.