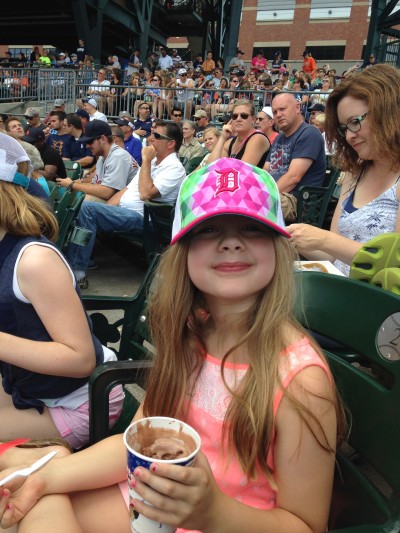 The Detroit Tigers currently sit at four (give or take) games below a 0.500 season, and five (give or take) games back from a Wild Card spot in the Major League baseball playoffs. They lost the one game I attended this season, which doesn't make me feel like I bring bad luck because they've lost a bunch of games.
Still, whenever they put together a few wins, which happened last week, the commentators start talking about streaks and climbing up in the standings and making a run for a strong finish. Then they manage to lose another handful of games in a row, and people start whispering about next year even though there are bunches of games left to be played this season.
I feel a little bit like that about my summer.
Since school ended in June, with endless days gleaming ahead like sun setting over Lake Michigan, I've felt the push and pull of moving forward with goals — running, writing, house projects, summer work packets for the kids — and set backs — lazy mornings, late night Netflix viewing, runs skipped in favor of finally sleeping in our freshly painted bedroom for just an extra hour.
We've had spans of gorgeous days — family time, friends visiting from across the country, three blissful days in northern Michigan — and bursts of unexpected beauty, like a full rainbow leading us home after a rainstorm.
I want to hold onto those moments as we close out summer. I want to banish the guilt over lapsed to-do lists and missed goals, though I know some of it will be verbally cursed under my breath as I struggle to catch up when fall encroaches on summer's warmth.
The guilt, I know, is ridiculous. Our summer isn't like a baseball season. We aren't getting paid for this alternately productive and lazy life. No one stands at a Labor Day gate and checks off summer accomplishments versus intentions.
Fall and winter loom, and days unfold like an accordion, and I know I need to make a little more progress than I did these last few months.
But for now, there are sweaty brows to be kissed and a few bits of Mackinac fudge left to sweeten the last days of summer.
I plan to savor both.
What's been your favorite part of this summer?