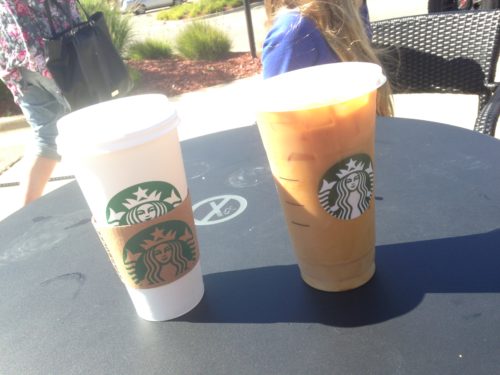 My coffee doesn't look nearly as sun kissed — or as prepared by a barista — this morning as it did a couple short weeks ago when we were driving home from Michigan Adventure. I wish it did, of course. The chill in the air is partially welcome, especially by a certain, sweet girl who desperately wants to wear her new fall clothes, but I'm still feeling a bit wistful for summer.
School started with the best intentions, and we attempted to settle into a routine. Unfortunately, a misunderstood fire code and other shenanigans meant the kids were home again this Tuesday and Wednesday. Any semblance of normalcy took a backseat to a few days' rewind to a summer mindset.
As life does, the two days with the kids reminded me time marches in one direction only. Despite a bit of humidity and temperatures warm enough to warrant bare shoulders and bare feet, we've clearly entered fall. They bickered a bit, in between the moments they read together and separately, asked to watch TV, careened down the street on bikes and scooters, asked for snacks, and counted down the minutes to extracurricular activities.
I thought about playing hooky with them, pushing off deadlines or working into wee, wee hours of the morning. (Yes, the second wee is necessary, because try as I might, I seem to be up until wee hours of the morning even on a normal day.) I felt beholden to my obligations, though, the ink of my fall responsibilities still too damp on my planner pages for me to feel entitled to tossing my hands into the air for unexpected fun.
We were all ready for the walk to school this morning, and for that I'm grateful. Their enthusiasm for summer and breaks and fun is matched, for the most part, by their enthusiasm for their days spent in their classrooms. I miss their breath in the house, that certainty of knowing I can reach to touch them or laugh with them within seconds. At the same time, I appreciate the silence, the music I turn on without worrying about contradictory requests from opinionated little people whose opinions seem to be forking away from each other's — except when they're not.
My blood pulses with start-stop-start-again lately. Too many ideas and not enough time. Too many plans and not nearly enough tables filled with double vats of caffeine. I hope it's enough, that start-again. Enough to meet actual goals, not just to check off items from a to-do list. Enough to climb a little closer to the precipice I see from where I stand.
How are you adjusting as we inch closer to fall?