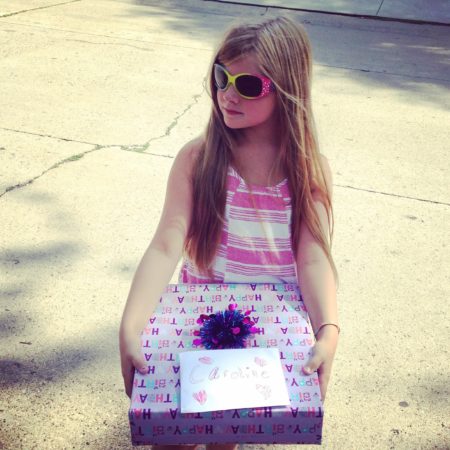 Taking Abbey to a birthday party was one of the things I did on my birthday this year — along with consuming mass quantities of garlic and chicken schwarma. I teased her that I should be invited since it happened to be my birthday, too, but she's discovered the tween eye roll and sigh combination that's sure to drive me to the brink of ballistic more times than I'll be able to count.
She wanted to walk, despite carrying a present in the sweltering heat, so we did. Later I drove Dylan to the pool, picking her up later in what seems to be an increasing shuttle back and forth between things they want and need and desperately have to do.
Summer's winding down.
We had a summer PTA meeting this week, and teacher placements should hit inboxes sometime this Friday. Many of our friends around the country are already back in their buildings, which means I spend extra time on Facebook each day, marveling over how people's children have changed, how babies I remember as babies are now kindergartners, some of them with gaps in their smiles.
We're lucky to have a little extra time to stretch our summer into September, but I can feel the gears moving scheduling into the next gear. My pens are already filling days with color coded activities and hopes for the upcoming year.
Back to school sprinkles magic into the air; it always has for me, but the magic tastes bittersweet this year. Our summer, though the calendar might deny it, has been too short. My pendulum has wildly careened from loving the time with the kids to feeling stress over things far out of my control. The futility of those worries hasn't escaped me, and my frustration with myself shortened my temper more times than I would have liked since June.
Still, it's been one of our sweetest summers. The kids can both swim and ride bikes without training wheels and pretty much remember to look before launching themselves down the driveway and into the street. They laughed as we read The BFG, and they both read themselves to sleep many nights. I like playing Headbandz and Connect 4, and they mostly accept it when I need to work for a while before another trip to the pool or grocery store or one of the very few organized activities we did this summer.
Last summer ended with a freelance position requiring more time than I'd anticipated working during Dylan's first weeks of kindergarten, and juggling my time became a chaotic way to drown out the quiet of having both kids in school full time.
This year, I'll be working fewer hours.
In two weeks it will be quieter in my house, both literally and figuratively, than it has been in over eight years.
Summer's winding down, and I'm just not sure I'm ready for it quite yet.