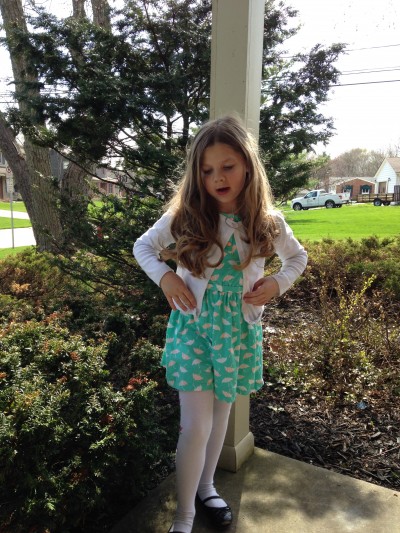 The dress hung in her closet most of last spring, through the summer, and into the fall. The umbrellas, she explained, weren't her favorite. I'd purchased it a little large, and I left it on the hanger until it became an item in her closet I saw without seeing.
She pulled it out the other day, declared it the perfect dress — comfortable, with adorable umbrellas, just right for spring when you never know when it will rain. She tap danced on the porch in patent leather shoes with worn soles, and I felt my heart twist a little as I watched her legs lengthen before my eyes, making the dress almost too short.
She can wear it with shorts until she finds another favorite.
We used to read a book regularly, Ruby In Her Own Time by Jonathan Emmet, about a little duckling who meets milestones and chases dreams on a schedule unlike that of her brothers and sister. She's unconcerned with the expectations of the people — well, ducks — around her, and my girl has always reminded me of that sweet little duckling.
I can remind her to practice her dance routines a million times, and she finds a million and one reasons not to do it, but I'll find her counting time and running through steps while I'm making dinner.
We've talked about writing spelling words to help cement them in her mind, and she's resisted until this morning, a month before school is finished for the year, when she declared, "Writing the words is probably the best way for my brain to learn the way they look."
She wears tutus to field days but pulls on cozy fleece pants when I expect her to wear something fancy.
Reminders about expectations don't reach her ears, or they lodge somewhere between stubbornness and giggling distraction. Mothering a daughter with stubborn tendencies, when you have them yourself, is an intricate dance I'm far from mastering. I trip over my feet, and I try to untangle the frustration from my words.
I grit my teeth some days: my shoes often litter the floor of my closet, though we've talked about putting them back if she wants to play in there; her personal stash of craft materials languishes, untouched, while my printer paper diminishes by the day; she remembers to ask permission for the stapler, the tape, the Sharpies, only after she's almost finished with whatever project she's dreamed up for the moment.
Her time, her methods, her thought process flutter out of my reach those days. I try, and I will continue to try, to breathe and to listen. To hear her words, whether they're spoken in a whisper into my ear or danced with joy in the living room, or pressed into my palm with small fingers that still need to be held and kissed and reminded that I will be here to hold that hand for as long as she needs.