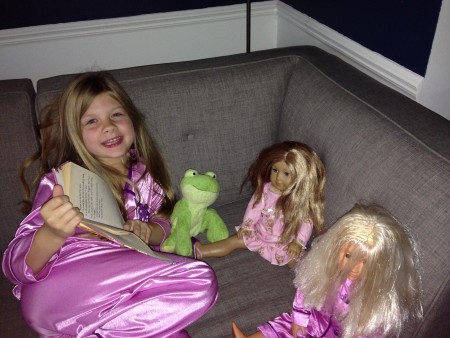 This weekend — and week, to be honest — was a whirlwind of places we needed to be, things we wanted to do, and a little bit of everything in between.
I'm trying to breathe in the quiet moments and mine them for energy during the chaotic ones.
This school year has been the most beautiful mess of busyness, something on which I thrive — until I don't.
Days flow like water, and I hope I always remember how it feels to cocoon ourselves in the kitchen after a long day, dancing together while making the quickest meal I can forage after a long day. I hope I always remember the ways she teeters between childhood and not.
I want to remember second grade.
She picks up books without prompting, and she's getting fast enough that I forget sometimes that her vocabulary is still catching up with her interest level.
She doesn't want princess movies but the live action The Descendants — and the accompanying soundtrack on repeat-repeat-repeat all day.
I don't bother suggesting clothes, dance outfits, or that she pull back her hair. Her fashion independent streak asserted itself early, but she's even more resistant lately — unless she's rifling through my closets or drawers, directing what she wants me to wear.
Yet she still needs (bunches of) help twisting pins into her hair to make a bun, and her handwriting devolves to a messy scrawl when something else competes for her attention during homework time.
Exactly when I am the most frustrated — ok, fine, maybe a few minutes past that point — she does something that leaves me in awe.
The other day, she was supposed to be getting ready for bed, but she decided to work on a school assignment not due for another day. I wanted to hurry her, the clock ticking into my evening work time, chipping away at the patience already worn thin by the end of the day.
The assignment had to do with writing a "small moment story," something I've worked on in various writing groups, with various adult writers. I cherish small moments, the emotion that reveals itself as you focus on details we often gloss over in our daily lives.
Unlike some days, she took her time with her writing, remembering spacing and lines and doing her best to sound out words with care instead of dashing off the first few letters that came to mind.
She added details without my prompting, peeling away layers, and showing bits of humor and whimsy as she filled up the lined page. At one point, she glanced at what she'd already written, shining eyes shocked that she'd filled up so much of the journal page before her story was finished.
I feel like that with her, and with Dylan, too. Their lives, so far, only overlap mine by a fraction, but our small moment stories weave magically together to fill so much of my life's journal.
I closed my eyes, impatience tamped down by gratitude, for a little while longer.
Later, I kissed her goodnight. I murmured words close to her ear that made her eyes shine brighter than the stars projected onto her ceiling. I closed the door to a certain, prescribed crack and went downstairs, so grateful for the silence — and for the laughter and music echoing whispers between the walls.