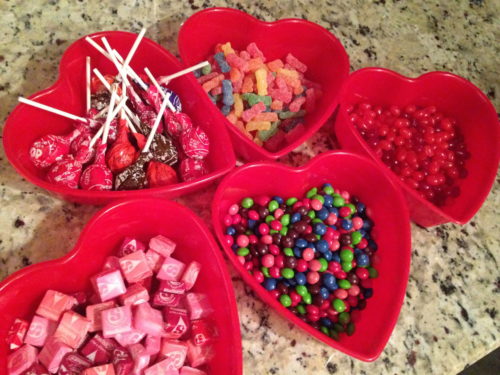 On Day 4 of my Whole 30 plan, we threw a sleepover for Abbey's ninth birthday. Much like hostesses throughout time, I didn't mind foregoing the pizza, but I had a harder time not nibbling on the "candy bar" offerings they used for their movie-watching snack. My entire experience with the Whole 30 mirrors those moments in so many ways.
Being intentional about what I'm eating seems to be much more difficult for me than figuring out how to eat within the (super strict, why am I doing this again?) parameters of the plan.
Sugar lurks in everything (seriously, cane sugar seems to be an ingredient in almost anything I pick up in the store), but eating lots of home-prepped meat, fruits, and veggies takes care of the majority of hidden ingredients. I find myself struggling against the mindless nibbling, though: grabbing a couple of those jelly beans, sliding my finger along the knife spreading peanut butter (no legumes!), snatching a corner of a quesadilla while dissecting it with a pizza slicer. I'm proud of myself for not succumbing to those moments, but it's been harder than I expected.
I'm trying this eating experiment for a few reasons: an increased awareness of how my body reacts negatively to different foods, an even less pleasant awareness of how my body doesn't react as well to my tried-and-true weight loss efforts, the desire to add healthier foods to the plates of everyone in my house.
Pondering intentional actions wasn't a part of my goal when I started the Whole 30, but it's becoming the thing I think about the most at the end of the day when I evaluate how the day went and what changes I might want to make for the next.
Did I grab a date roll because I was actually hungry or did it just sound tasty as I passed the container on the counter? Would pausing to make an actual lunch take more time than grabbing three small snacks between breakfast and dinner?
Those reflections extend to other parts of my day, whether I want them to or not. I notice my wasted time a little more.
Did I need to check Facebook messages before diving into scheduling posts for the week? Does answering emails need to involve clicking through to look at J. Crew sales I know I'm not actually going to shop?
After my 30 days are finished, I'm planning to keep some of the parameters of the eating plan in place and relaxing others. I need to keep the intentional thinking, though, for both eating and other aspects of my life. Just like my dietary habits affect my energy and mood, so does the way I spend my time. Hopefully, I can continue to figure out ways to use it more productively.
Have you tried the Whole 30? What did you learn from it if you did?