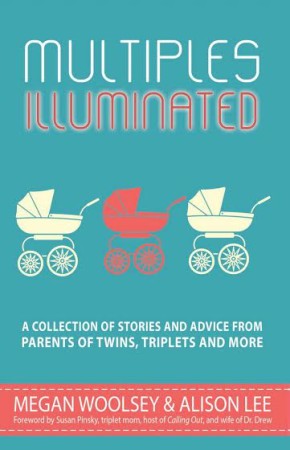 When I was pregnant with Dylan, I distinctly remember thinking about how I'd sync his nap schedule with Abbey's. Her nap schedule basically consisted of working very hard for over an hour to get her to sleep for approximately 30 minutes, but I still clung to the idea of 30 minutes of child-free time a day.
She dropped her nap completely just about a month before he was born.
Children don't care all that much about their parents' plans for child-free time and — in my experience — it got even more hit-or-miss when we added our second child to the mix. Some parents, though, add kids to the mix more than one at a time, and I remain a little in awe of parents of multiples. Twins, triplets, or more, welcoming more than one baby into your home at one time can't be an easy task.
Multiples Illuminated: A Collection of Stories and Advice From Parents of Twins, Triplets and More is a compelling collection of stories from writers and parents of multiples, as well as expert advice that is a must-have for all parents and grandparents of multiples. It dives deep into the world of raising multiples with beautiful stories and helpful advice. In it, you will find essays on infertility help and hope; finding out and coping with a multiples pregnancy; stories of labor and delivery; stories from the NICU; breastfeeding best practices for multiples; and surviving the infant and toddler stages.
I asked the editors of Multiples Illuminated a few questions, both about the anthology and about the joys and challenges of parenting multiples.
1. Why did you decide to put together the Multiples Illuminated anthology?
Megan: I have seen many beautiful anthologies published the past few years and have been fortunate to be a part of a few of them as an essayist. One day while I was out shopping with my husband I had an AHA moment: there should  be an anthology for multiple parents from multiple parents and I need to make it happen. When I was pregnant with triplets I scoured the Amazon virtual shelves in search of books to help me through the unique process of carrying, delivering and raising triplets. I only found a few books to help me. I would've really appreciated a book like Multiples Illuminated when I was pregnant, and I love that we have it now. Creating this book with Alison has truly been a dream fulfilled.
2. How does Multiples Illuminated differ from other parenting books, particularly other books about raising multiples?
Multiples Illuminated is not a "how-to" book although we do have an advice section for each of the chapters covering infertility and trying to conceive, pregnancy, labor and delivery, NICU and the first years. The advice we give is based on our personal experiences, sharing what worked for us. The stories are honest and although personal to each writer. They are universal in the experiences they share, and lessons they learned. It's more of a "Come take a peek into real life with multiples" rather than "Here's how you do it."
3. What's one thing about raising multiples that you've experienced that you never would have expected?
Alison: How much people LOVE twins! Everywhere we go, the twins get attention – of the good kind. People are genuinely interested in and fascinated by multiples.
Megan: How much I would enjoy watching the close bond my triplets have. It is truly a beautiful relationship. I agree with Alison- people love multiples! It's pretty fun.
4. What's one benefit to having two newborns at one time? One drawback?
Alison: Watching them together. Just marveling at the fact that there are TWO. When my twins were little, they always found their way to each other when they were sleeping. Sitting side by side, they'd reach out for each other's hands. Now that they are toddlers, watching talk to each other and play (and fight!) together, it's a joy. The drawback of having more than one newborn is that there is only one of you. Spouses and family members are great to fall back on but ultimately, there is only one YOU.
Megan: The benefit is harder to realize when they are newborns – more obvious as they become toddlers and beyond when they can play together. The drawback to having three newborns at once is – do I even need to say it (LOL)? Up for hours in the middle of the night. Feeding three babies. Blasting through 15 diapers a day. Trying to soothe three babies at once. Newborn triplets is a challenge to say the least.
5. What's one misconception about twins or triplets you haven't found to be true with your little ones?
We don't know if there are misconceptions about multiples. If people think having twins, triplets or more to be difficult – it's true, yes, it is. Every stage is challenging. If people think having multiples must be fun – it's true. It is fun. It's amazing. It's joyful. It's a blessing. If people think having more than one child at a time to be noisy – YES, YES IT IS.
6. What advice would you give to families just starting their journey of parenting multiples?
Be prepared! Do your research: read (a book like Multiples Illuminated!), connect with other multiples families online (join our Facebook community) and offline. Talk to your healthcare provider about any concerns regarding your pregnancy, birth plan and the early days.
Ask for help and gladly accept offers to help. Having meals stocked in your fridge or laundry done is a great relief. Allowing grandparents, aunts and uncles cuddle time with the babies mean you can take a breather (or a shower). Lean on your partner. Night feeds with multiples is no joke!
Whether you're the parent of multiples, have a friend with multiples, or simply enjoy reading parenting stories, you won't want to miss this collection of essays!
Amazon (paperback and Kindle)
Barnes & Noble (Nook)