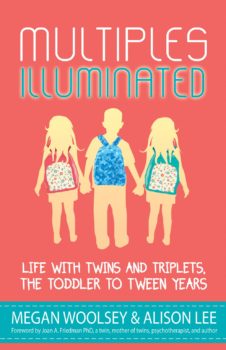 Multiples Illuminated: Life with Twins and Triplets, the Toddler to Tween Years is the collection of essays from Megan Woolsey & Alison Lee. Both editors parent multiples themselves, and they've gathered stories from other parents of multiples. This collection includes an essay from a twin, offering a different perspective than the parenting side of living with multiples.
This is an excerpt of "When One Twin Has Cancer" by Jessica Martineau from Multiples Illuminated: Life with Twins and Triplets, the Toddler to Tween Years.
We were whisked into a private room filled with a team of people. Brief introductions later, we had met Mila's oncologist team. Doctors, surgeons, social workers, and nurses.
The pediatric oncologist, a young-looking man, warm by default, Dr. X, took the lead.
"Jessica, Mark … we received the results of the biopsy. Mila has Embryonal Rhabdomyosarcoma."
That was the scary medical term for what was a large tumor I'd discovered on Mila's right hip during a routine trip to tubby time.
He proceeded to inform us that this was a rare and aggressive form of cancer.
Mark put his hand to his face and tears fell. I had never seen him like this before, and it scared me. I must have missed something. I was not following. There were so many solemn eyes looking at us. Awaiting a response. I felt like a deer caught in headlights.
Dr. X continued, "We will begin with surgery to remove the tumor and the muscle surrounding it. From there, we will decide her specific treatment plan. It is definitive that she will receive weekly chemotherapy for 12 months. The pending factor will be the addition of radiation. This will be an unknown until we see what we are dealing with."
The reference to chemotherapy hit me like a boulder. As I started to lose it, Mark began to compose himself. It was as if we passed off the strength baton.
This was the moment we were welcomed into the family we never wanted to be a part of.
Immediately after Mila's diagnosis, Ava popped into my mind. Was this her impending doom? Would she get cancer now? Or after Mila finished her treatment? Years down the road, would we hit the repeat button? We needed to know if this disease was genetic, because our twins are identical.
Our worries were laid to rest later when a genetic test proved that this cancer did not develop from a genetic strand. Ava as well as Presley, had as slim a chance of developing cancer as any other healthy child. The other silver lining of this diagnosis was a recent study that confirmed that a six-month treatment would be just as effective as a year-long one. Just like that, Mila was halfway through.
After a successful surgery, Mila began her journey of weekly chemotherapy. It was the first time she and her twin had been separated for several days. Ava spent the day with her grandmother and Mila received sole attention from me. They both loved the one-on-one time. However, the moment we walked in the door on Wednesday evenings, they ran to each other and commemorated the reunion with joyful squeals.
Every third Wednesday, Mila came home with a hydration backpack and was on a strong, continued, dosage of anti-nausea drugs that caused her to be a bit loopy. The hydration backpack was connected to her through a port in her chest. It had about two feet of slack. On these evenings, Mila, Ava and I would curl up into a chair together and watch Curious George for a few short hours until bedtime. Ava, having the flexibility to be up and about if needed, would grab her water bottle or a banana for herself and Mila just in case she wanted it. She was unapologetically thoughtful and supportive, as if she knew how her sister was feeling.
The mornings Mila woke up in her crib after sleeping with the hydration backpack were not the easiest. The medicine made her nauseated, and occasionally she would vomit. As I tended to Mila to get her clean and comfortable, Ava waited patiently in her crib. When Mila was cleaned up, I would place her in Ava's crib to continue cleaning the rest of the room. The girls sat contentedly together. Despite not understanding the seriousness of cancer, Ava became her sister's safe space and kept her smiling. When the twins were together, you would never have known Mila had cancer and was undergoing a treatment that could bring a 200-pound man to his knees.
Together, with Presley and Ava's support, love and laughter kicked this disease to the curb.
The book launches on August 4, 2017, National Twins Day!
The digital version of the book is available for preorder now for $2.99 on Amazon for Kindle and other digital devices. Come August 4, launch day, all preorders will be delivered automatically to buyers.