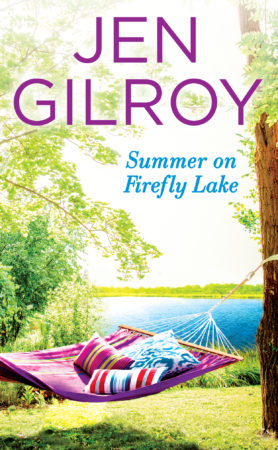 Jen Gilroy's Summer on Firefly Lake worked its way onto my summer reading list in the midst of a couple of thrillers, a refresher of A Wrinkle in Time, and a possible revisiting of Stephen King's IT in anticipation of the movie's fall release.
The sometimes sweet and sometimes sultry summer read ended up being exactly what I needed to clear my head. Summer reading lends itself to romance, no matter how many dark and stormy titles I add to my pile.
Summer on Firefly Lake is part of an interwoven, three-part series, and I hesitated to accept a copy for review at first. Truthfully, I didn't have time to read the first book (The Cottage at Firefly Lake), and I didn't want to dive into a book where I'd be playing a lot of catch up in relationship to characters and locations. (The promotional materials said the novel could be read as a stand-alone, but I still waffled.)
I needn't have worried. The story functions well as a stand-alone, and I never felt lost or unsure about who people were or the role they played in Mia and Nick's lives.
Mia Gibbs returns to Firefly Lake after her divorce, a place she visited — but never really loved — as a child. The desire for stability for her children draws Mia there, because her sister Charlie made a life there, and Charlie's the only family Mia has left. Reconnecting with Nick McGuire, a bad boy turned respectable attorney, provides her with a solid friendship as she navigates a potentially lonely summer with her girls visiting their father.
Nick McGuire grew up in the small town, but he's only back to help his mother move out of her family home after a health scare. His back-to-New-York countdown ticks loudly in the back of his head, even as he finds himself thinking of Mia as much more than a friend.
The attraction between Mia and Nick sizzles, and their mutual hesitation about getting into a relationship feel real. Their dance around their chemistry works without feeling forced, even as you wish they'd communicate some of their hidden worries a little bit more. Watching each of them come to terms with their own worries ups the tension as the reader wonders if they would, indeed, be better off as just friends.
Life, as life does, throws complications between them. Nick's mother isn't as eager to move as he might have helped, and a twelve-year old foster child comes into Nick's life when he's least likely to take on any additional responsibilities.
Nick, Mia, and the other residents of Firefly Lake embody the kind of people we encounter each day: mostly kind, a little stubborn, and just a touch unsure about where they want to go, even when their hearts are pointing them in the right direction.
I'm glad I took a chance on Firefly Lake, and I plan on visiting the other novels in the series (Back Home at Firefly Lake will be available in December, 2017.)
For more information about Jen Gilroy, please visit her website. 
Information about where to purchase Summer on Firefly Lake — and her first novel, The Cottage at Firefly Lake — available here. 
I received a copy of Summer on Firefly Lake for consideration for review. All opinions, as always, are my own.