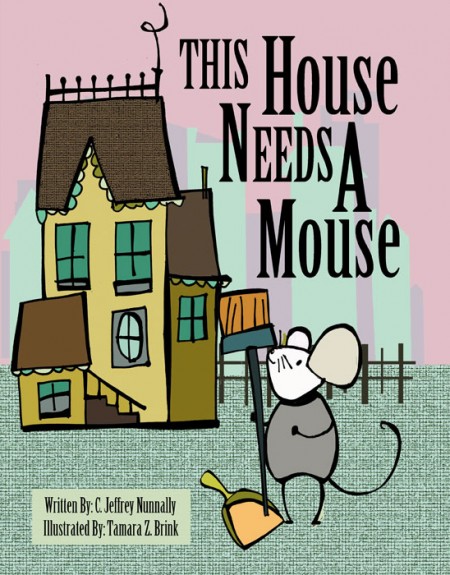 Bedtime stories have become a negotiation lately — and exciting, heart-expanding negotiation, but sometimes a challenge nonetheless. Abbey reads more and more on her own, and she likes to take over the story reading, but there are nights Dylan insists Ryan or I read. We often juggle picture books, chapters in current favorites — we're loving the Ivy and Bean series — and anything else that strikes a chord each evening.
On nights we read picture books, there are certain ones that hold Abbey's attention; she enjoys detailed illustrations and stories about animals, and This House Needs a Mouse has both.
C. Jeffrey Nunnally's children's book follows a sweet little mouse as he leaves his cage behind and finds a home with a family who needs a mouse to clean up all of the crumbs left behind by a busy family with a young child. We love reading about the crumbs, because it's something we deal with daily, so there are giggles and finger pointing as the kids banter about which of them leaves the most crumbs on the table or the floor during meals.
But just when the mouse is getting comfortable, everything changes — and we all know how disconcerting that can be. One of my favorite parts of reading with the kids is connecting the stories we're reading with things happening in their lives, and This House Needs a Mouse offers several opportunities for conversations about what makes a home, what to do when we have to move outside of our comfort zones, and how to adapt to change.
As the mouse maneuvers his way around poison and a mouse-hunting cat, he finds his way to a place he can really feel at home. Each time we read This House Needs a Mouse, Abbey is thrilled by the cute ending — and asks when we'll get to find out what happens next.
We've read The Mouse and the Motorcycle together, and I think This House Needs a Mouse is a perfect segue to revisit the Beverly Cleary trilogy about Ralph the Mouse.
Consider purchasing this charming children's book this holiday season! You can find This House Needs a Mouse on the book's website, Amazon, Barnes and Noble, and Big Tent Books.
How long do bedtime stories take at your house?
Disclosure: I received a copy of This House Needs a Mouse for consideration for review. All opinions are my own.