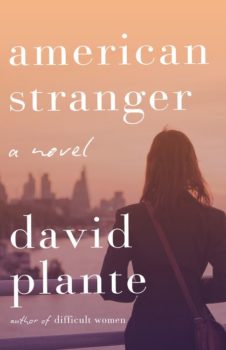 I read American Stranger by David Plante mostly during the time between Christmas and New Year's Day. Cold weather, perhaps unexpectedly so, even for Michigan, meant we stayed inside more. Time stopped, at least for a few days.
After finishing the novel, the timing of its reading felt right.
Suspension feels like the heart of American Stranger to me. Suspension of identity and searching for something that might never actually come to be for Nancy Green.
Readers meet Nancy as a young adult splitting time between graduate school in Boston and her parents' home in Manhattan. Jewish by heritage, if not religious observation, Nancy floats between loneliness and forwardness, sometimes using forced extroversion to throw friends and acquaintances a bit off balance.
Nancy's sense of self centers on her relationships, first with a Hassidic Jew searching for his own answers in a monastery, then with Yvon, a Catholic undergraduate bound to his own heritage and mother in a way that makes it impossible for he and Nancy to find happiness. Hurt and unmoored by a tragedy in Yvon's life, Nancy escapes to London with a Jewish husband, a widow with social aspirations Nancy only vaguely understands.
Her marriage ends, like so many do, in an abyss of unmet expectations. While she finds a familiar comfort at home with her parents, she once again seeks something more, this time resolving to reconnect with Yvon, the passionate love invading her thoughts and consciousness.
Religion and identity tangle together throughout American Stranger, underlying each of Nancy's relationships and making her question where — and with whom — she fits. Her exhaustion plays a prominent role in her coping skills. Many times she finds herself seeking a place to sleep, to rest, where she can be still and removed from chaos.
In the end, many of Nancy's questions remain unanswered. Readers have the chance to draw their own conclusions about how we form our sense of self, and how we need to adjust it when our relationships can't offer the stability we seek.
*Disclosure: I received a copy of American Stranger in consideration for review. All opinions are my own.