I'm thrilled to bring you a little sneak peek of what you'll find in Science of Parenthood: Thoroughly Unscientific Explanations for Utterly Baffling Parenting Situations, the hilariously honest book from Norine Dworkin-McDaniel & Jessica Ziegler.
Norine is offering a little insight into what becomes of the holiday-shopping angst we all succumb to — eventually — at this time of year.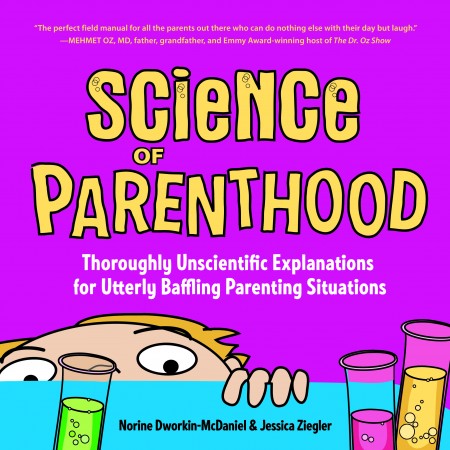 The Story Behind Newton's Third Law of (E)motion
by Norine of Science of Parenthood
This one Christmas a few years back, I really thought I'd nailed it gift-wise, that I'd found the gift to end all gifts. The home run of gift-giving.
My son had just been turned onto Beyblades — those metal-plastic spinning tops with ripcords and an anime TV show on Cartoon Network in which they battle in amphitheaters. There was a constant chorus of "Beyblade! Beyblade! Let 'em rip!" coming from the TV.
Whatever. I'd been spending bazoodles on Pokemon cards for months when my son declared he was "over" Pokemon and was now "into" Beyblades. Which meant more over-priced plastic crap I'd be begged to buy every time we went to Target. (By the way, if you're in the market for 1,000 Pokemon cards, DM me. I can totally hook you up.)
But then it was Christmastime, and when I spotted a Beyblade Metal Fury Destroyer Dome on sale at Target, I thought Bingo! I will SO be the hero of Christmas with this. It came with two beyblades to battle inside the plastic dome. Done and done!
Christmas morning, I could barely contain my excitement. I couldn't wait to see his face light up when he realized he had beyblades of his own. I pictured him, enraptured, spending the rest of the morning, doing battle after battle in the dome.
We always save the REALLY BIG gift for last, and finally, there was just one box left. I handed it to my boy, then watched eagerly as he ripped through the wrapping paper. His eyes widened as he realized there were BEYBLADES! IN THE BOX!!
He turned the box over, and then his face … fell.
"Mom! These aren't the right beyblades! I wanted …" and he rattled off a slew of names I'd never heard of.
My Christmas joy deflated like a sad balloon. Turns out that smartypants Isaac Newton was right. For every action (buying beyblades with enthusiasm, for instance), there is an equal and opposite reaction (complete and utter disappointment).
From then on, the kiddo got socks. At least that way I'd know he'd be disappointed.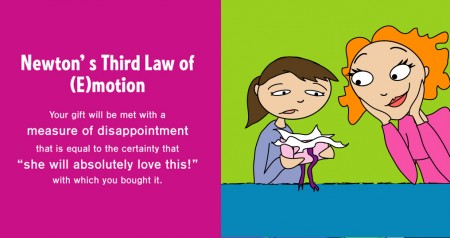 Norine Dworkin-McDaniel is co-author with illustrator Jessica Ziegler of Science of Parenthood: Thoroughly Unscientific Explanations for Utterly Baffling Parenting Situations, published in November by She Writes Press. Find it on Amazon and wherever books are sold. Follow Science of Parenthood on the blog, Facebook, Twitter and Instagram. Is Science of Parenthood coming to your town? Check out our tour schedule. Want Science of Parenthood to come to your town? Message us!