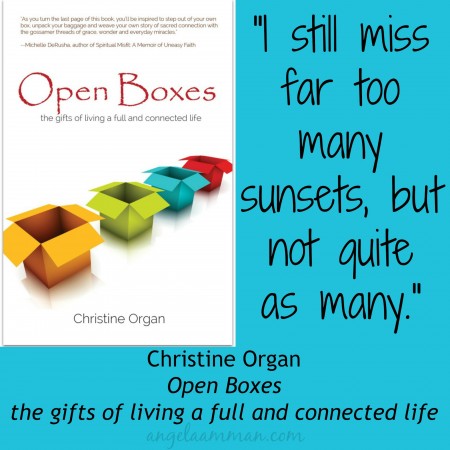 I've been looking around the playroom lately, mentally sizing up our storage shelves. My mind wanders to the familiar IKEA systems — should we add baskets? Magazine holders for their sheafs of papers? More plastic boxes for the scads of LEGO pieces that disperse around the house?
We don't need additional storage options.
My head knows that, and I'll stay away from IKEA for a little while longer. The end of the school year fills the calendar — and my head — with chaos, and when I feel out of control, I look for different ways to add order to our lives.
Storage boxes do that.
In the introduction to Open Boxes: the gifts of living a full and connected life, Christine Organ talks about the beautifully organized storage boxes in her home. Pieces of her life, her past, are houses within those boxes, and their neat arrangement gives her a sense of accomplishment. I related, immediately, and I knew I would relate to her words as I read through the rest of her book.
Open Boxes explores the ways Organ decides to metaphorically open the storage boxes of her life, to unpack her thoughts about spirituality and the connection to herself, to the people she loves, to her God. Maybe you don't consider yourself religious — I personally struggle with my faith in countless ways — but her explanation of what she means by God makes Open Boxes accessible to people of various faiths and belief systems. The God explored in Open Boxes is about love and connection in life, the power of something larger than our individual selves.
Organ's essays are organized into three categories: Grace, Wonder, and Everyday Miracles. Honestly, essays and short stories earn major points for me lately. With divided attention and a jam-packed schedule, I love having the option to snatch a bit of reading time when I can find it. Essays let me feel connected to what I'm reading without demanding too many consecutive minutes.
I expected to enjoy the Wonder essays the most; when I'm writing and disseminating my own thoughts, I tend to focus on those moments of wonder that show me there's more to the individual moments I'm experiencing. However, I really fell in love with the stories in the Grace section of the book. Organ opens her heart and mind to people on the periphery of her life — fellow Old Navy shoppers — as well as the people she loves the most. She revisits the past as well as talking about the present, and my appreciation for the stories that build a person's life was truly piqued with the Grace essays.
I read the Open Boxes essays out of order, picking and choosing according to my mood and the titles and if I had time to continue reading for a few more pages. Each essay is prefaced with a quote, which endears any book to me, just a little more than I might already like it. Readers who are feeling disconnected from their lives or themselves will find much to ponder within Open Boxes, as will anyone who finds joy in reading about small moments that shape a person's life.
How do you strive to find order when your life gets busy?
Open Boxes: the gifts of living a full and connected life is currently available for purchase on Amazon and Barnes & Noble.
Disclosure: I received a copy of Open Boxes for consideration for review, but all opinions are my own.