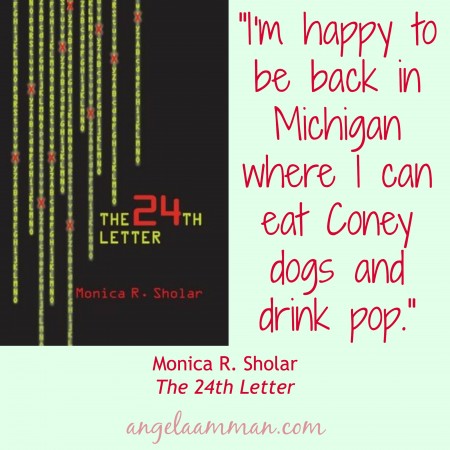 Though he prefers his hot dogs without the trappings of a Coney, Dylan would happily eat at Coney Island restaurants at least once a week. Growing up in Michigan, he will learn that there's some version of a Coney Island every couple of miles, and when he's old enough to drink it, he will likely order a pop with his meal. There's something that makes a local book a little more fun, the landmarks and local language peppering the pages.
Monica R. Sholar's The 24th Letter takes place in the fictional Belle Isle Heights, and Michigan residents — particularly residents of the Detroit area — will recognize hospitals, universities, and shopping locations that pay homage to places in the Metro Detroit area. Reading a book set in a familiar place makes the setting feel even more real, more urgent, which worked so well in the suspense novel.
The eerie obsession Kevin Dennison has for the wife of CIA Agent Malone is at the heart of this story, and it leads to several twists and thrills throughout The 24th Letter. There are kidnappings and exposed secrets, fear and those moments in suspense stories that the reader just knows the character is going to get herself in trouble and knows there's nothing in the world that can stop her.
Of course, my favorite parts of the book deal with the relationships between the characters. Even without the intrigue and suspense in the novel, Sholar writes the type of relationship issues many couples face. If you strip away the heightened issues of the plot, readers will relate to relationship issues like a severe betrayal of a friendship, whether omission of truth is another sort of lie, and the baggage each individual brings to a relationship. The characters and their motivation are what really drove my interest in The 24th Letter — I truly felt myself rooting for them as I flipped furiously through the pages.
Michigan readers and fans of suspense novels will find themselves speeding through The 24th Letter to find out what happens to Robin Malone.
Keep up with Monica R. Sholar
Do you enjoy reading books where you recognize the setting?