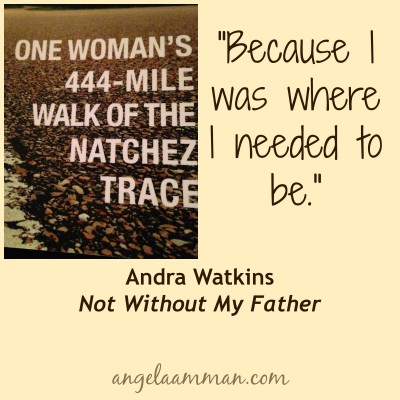 I ran gently the day after my half-marathon this fall, testing and stretching sore muscles. The previous day's thirteen (point one) mile run weighed heavily on my joints, and even as my slow run loosened the kinks, I looked forward to stretching, to resting, and I haven't come close to that thirteen (point one) mile distance since the sunny Sunday at the end of September.
In March, Andra Watkins published a book, a feat I admire in and of itself. To Live Forever: An Afterlife Journey of Meriwether Lewis is haunting and hopeful, and the Natchez Trace played a huge part in the story. With the novel's release, Watkins made the decision to walk the entire Natchez Trace — a walk, she's reminded several times during her undertaking, "no one does."
I loved To Live Forever, and I was thrilled to hear Watkins would be publishing a memoir about her journey up the Natchez Trace — all 444 miles of a walk that started in Mississippi and ended in Tennessee. Her trek wasn't something she could do alone. In order to walk the Trace in six weeks, she needed someone to hold down the virtual fort for her — someone to help check in at bed and breakfasts, someone to meet her at mile markers at the end of her walk each day.
That person was her father.
Not Without My Father isn't simply a tale of Watkins' walk.
Of course, the trek up the Trace is a central focus of the book. From the unexpected sleet — remember 2013 – 2014 was the winter that never, ever wanted to end — and the perfect beauty of a hopping robin to the ravaged blisters from the repetitive motion of the walk, Watkins' accomplishment shouldn't be reduced to the emotional journey of her six-week undertaking. Walking fifteen miles a day, for six straight days, then resting a day and starting again, is a physical feat requiring tenacity and utter obstinance.
Despite the aches and pains of the physical trial, those aren't the details that will echo through my thoughts when I remember Not Without My Father.
Watkins confronts many things during her walk. Mental, physical, and emotional obstacles are impossible to ignore when you meet them on your own two feet. Family dynamics play an enormous part in the memoir. Roy Watkins is out of shape and ornery, ready to verbally spar with his daughter over everything from climbing stairs to signing books with her swollen fingers. Yet he is the one who sells her book to anyone who will listen to his pitch, the one person who sees her each day, the one who sees in her eyes that she isn't going to quit.
The book itself is a lovely read, each section named with a song. There's something about a playlist that makes a road trip all the more appealing, though most of us will make our next 400 plus mile trip in a car and not on our tired, sore legs. Roy Watkins' own words can be found in sections, and his impressions of the trip — and of his daughter — add depth, perspective, tenderness, and quiet wit to the tale. One of the threads that weaves through Not Without My Father is that Roy Watkins is a storyteller, and his voice is an expected harmony to Andra Watkins' own storytelling.
I started Not Without My Father while Dylan was getting a haircut, and I knew within pages, that I was reading something I absolutely needed to read right now. I dog-eared many pages while I read, but Watkins' line, "Because I was where I needed to be," resonated with me. It resonates with me still.
I will not walk the Natchez Trace. But I hope to channel the strength and spirit Watkins gathers as she makes her way north. I want to recognize the things I fear and face them anyway, on feet that are tired and sore and still walking until they take me where I need to be.
What has inspired you lately?
Not Without My Father will be available on January 15, 2015. Add it to your Goodreads reading list. While you're waiting, you can read To Live Forever or follow Andra Watkins on her blog, Facebook, or Twitter.