Like my thoughts, my reading habits keep jumping around this summer. I dive into books, then read others in tiny, chapter-size bites. I read books specifically sent to me for review and others that finally make their way to my house via the library hold system. I re-read favorites. Basically, I find the time to read when I can, and I hope my quick and easy reviews point you in the direction of something you might like.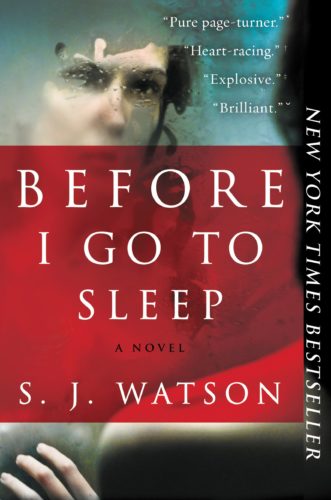 Before I Go to Sleep by S.J. Watson
I can't just make things easy and stick to beach reads this summer. I found myself on a little thriller kick, and Before I Go to Sleep came home with me from the library. (It's currently in paperback if you want to buy it!)
I'm not the first person to compare this book to Christopher Nolan's Memento, but I think it's important to mention. Christine wakes up every morning without memories of the prior day (and several prior years). Each day, her husband Ben needs to explain parts of her life to her, after he explains who he is and why she doesn't have any recollection of him or her immediate past.
Thanks to a therapist, Christine soon records her memories in a journal, hiding it each night and keeping its existence a secret. Soon, readers see inconsistencies in Ben's answers, and tension builds — both between the reader and the story and between Christine and Ben.
Of course, Christine epitomizes the concept of an unreliable narrator. Is she really recording everything she learns? What does she deem unimportant and important? Watson builds the tension artfully, keeping readers turning the page while leaving clues to the eventual conclusion scattered through the narrative. One of the best parts of the book, which I enjoyed and highly recommend, is how uncomfortable it felt to read. I really felt like I imagine Christine felt: something doesn't feel exactly right — but we aren't sure exactly what it is until she is.
The Book of Summer by Michelle Gable
The Book of Summer came to me via the She Reads summer book picks, and I couldn't be more thrilled. The literal Book of Summer exists between the pages of Gable's book, a guest book of sorts in Cliff House, a Nantucket summer home. Through its entries, we get a glimpse into Ruby's life, a background that slides forward to present day, where Ruby's granddaughter Bess has retreated to Cliff House.
Bess's mother, Cissy, wants to save Cliff House from tumbling into the sea. Bess's father has entrusted her with getting her mother to see that even Cissy's stubbornness can't stop erosion. Bess, of course, has other reasons for welcoming a return to Cliff House: a failing marriage, memories of an old love, and secrets she's ignoring for as long as she can.
I loved Ruby's voice and the cadence, language, and tone of the 1940s. Her story emphasized the role women played as the United States entered World War II.
The Book of Summer reads like a summer book, with a beautifully done cover and shenanigans from Bess and Cissy. However, Gable wraps complicated social issues in a beach-read package. I loved how much I thought about this book after I finished it. I particularly related to the nature of mother-daughter relationships and how we sometimes rail so hard against something that could be so much simpler than we make it.
The Book of Summer doesn't end with a beautifully tied bow, allowing the reader to extrapolate happily-ever-afters — or not.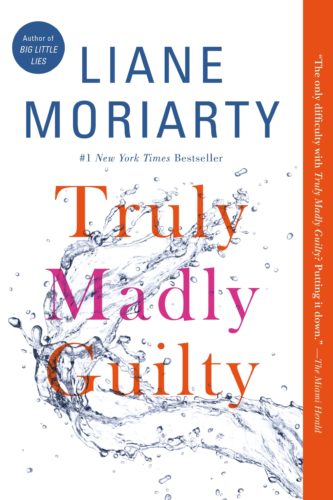 Truly Madly Guilty by Liane Moriarty
Thanks to the HBO miniseries, people went bonkers for Liane Moriarty's Big Little Lies. I eventually read that, too, but I had to sit on the waiting list for a while. In the meantime, I grabbed Truly Madly Guilty off the library shelf and dove in.
I'd already read What Alice Forgot and The Husband's Secret, and as I made my way through Truly Madly Guilty, I remembered the way Moriarty lets her reader know about an "incident" immediately, revealing details as the book unfolds.
Personally, I felt like the actual incident got blown up into more than it was in Truly Madly Guilty. I worried about it, a lot, as I got closer to the reveal, but it felt a little anticlimactic when it finally came.
Six adults find their lives entwined because of Erika. Though her character seems unassuming, she's the cog in the relationships, linking each of the three couples to the others. She and her husband, Oliver, live next door to Vid, Tiffany, and their daughter (at whole house the mysterious "incident" occurs). Erika is old friends with Clementine, whose husband, Sam, and their two daughters all play an integral role in what happens during the night in question.
If the "incident" and "night in question" feel a little obtuse and overdrawn, Truly Madly Guilty might not be the right book for you.
The interesting aspect of TMG comes from the reader's bird's eye view into different views of friendships and relationships versus how they look from the outside. Moriarty shines when she contrasts what her characters reveal with what they hide. In this particular story, I felt myself drawn to her exploration of gender and parenting roles. Though I don't think this is her strongest story, it's definitely worth a read if you're looking for a Moriarty fix.
You Will Know Me by Megan Abbott
I adored You Will Know Me last summer and loved it just as much this summer. Also, quick aside, but it doesn't seem like a year ago that I read those five books. Time flies, truly.
During this read, I thought about what binds us as families and the link between desire, drive, and desperation. With a gymnastics prodigy at the core of their family, the Knox family knows more than their share about determination. Devon and her steely determination rule the vault on which she excels, but when tragedy strikes Devon's gym, we pull back from her singular focus to see where her parents fit into her drive and desire.
Devon's father, Eric, presides over many of the social machinations at the gym and in the parent Booster Club. Katie's quiet presence in the gym bleachers becomes more complicated as the story unfolds and she pieces together the events surrounding the death of a young man connected to many people in the gym's hierarchy.
The link between mother and daughter loomed large for me as I read You Will Know Me this summer, especially a scene in which the reader sees Devon watching Katie. Most of the book shows Katie watching Devon, so the contrast feels weighted, especially when I went back to one of Katie's quotes:
"'Being a girl is so hard,' Katie thought. 'And it only gets harder.'"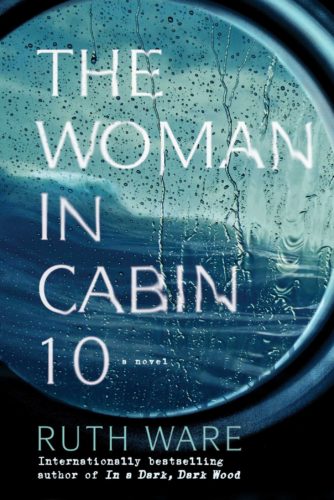 The Woman in Cabin 10 by Ruth Ware
I continued my thrilled kick with The Woman in Cabin 10.
Many years and many books ago, I sat on the gold shag carpeting in my parents' guest room/computer room and worked my way through my mom's extensive (seriously extensive!) collection of Agatha Christie mysteries. Coaxed along by Dame Agatha, I learned all about red herrings and eliminating suspicious suspects — and in Curtain, I learned about trusting — or not trusting — a narrator.
Despite its modern setting — web critics, bloggers, and investors make up much of the cast of characters — The Woman in Cabin 10 felt like one of those old-school, tradition mystery novels. Readers need to slowly work out who can be trusted, who can be believed at their word, and who is what they seem.
Lo Blacklock finds herself among the first passengers to voyage on an intimate, luxury cruise ship — luckily, she thinks at first. (And, of course, my mind skipped happily back to two of Christie's other mysteries: Death on the Nile and Murder on the Orient Express.) She doesn't feel nearly as lucky when she hears a splash in the night, sees blood smeared on glass, then can't account for the "woman in cabin 10," from whom Lo borrowed mascara when she realized she'd forgotten her own. Soon the mascara in question disappears from Lo's cabin, no one appears to be missing from the boat, and everything begins to feel off-kilter.
The small ship ends up being the perfect setting for Ware's book. Claustrophobia and the swaying of the ship affect Lo, and they affect the reader, too. In addition, the cold-weather cruise feels disorientating to me, though I'm sure not everyone associates cruising with warm weather.
Ware adds to the Agatha Christie vibe with observations about those with (lots and lots of) money versus the working class, including placing some members of the press/travelers into each of the categories. Texts and emails from Lo's friends and boyfriend add to questions about Lo's reliability — and to what might happen to her as the story draws to a conclusion.
This post contains affiliate links.