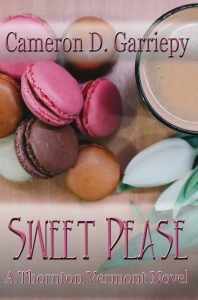 Sweet Pease bursts at the seams with characters I'd love to know — or maybe even be. A visiting English professor whose focus on his novels sometimes leads him to say the wrong thing and a sassy pastry chef who dishes out advice while putting together snacks for her friends collide in Sweet Pease, but Ewan and Kate are surrounded by friends and family members who make Thornton, Vermont feel more like a glimpse into a real world than a fictional one.
Readers of Cameron D. Garriepy's first novel, Damselfly Inn, or several of her short stories, will recognize some of the characters in Sweet Pease, though the delectable novel can also be read as a stand-alone. (Though I guarantee if you start with Sweet Pease, you'll want to read Damselfly Inn as soon as you finish.)
Garriepy's novels fall into the romance category, and readers will find themselves falling in love with her characters as they fall in love with each other, making the plot twists and turns all the more intriguing — and heartbreaking.
Kate Pease grew up in Thornton, escaped small town living for a while in Paris, and firmly landed back in a place where she still runs into her kindergarten teacher, one of the only people still allowed to call her Katie. In her first Thornton novel, Garriepy explores the idea of an "outsider" making a home in a small town, and Sweet Pease flips that concept around to look at small town life from the eyes of the consummate insider.
When Ewan comes to town to research a novel and impart a little of his creative writing knowledge to the town's college students, he complicates Kate's life by becoming more than a passing fling. He's drawn to Thornton's stories, but Kate can't be sure he doesn't see the town — including Kate and her beloved friends and family — as more fodder for his books.
Sweet Pease looks at love through the lens of people who aren't sure they need romance to be successful and happy in their lives. Both Kate and Ewan relish their thriving careers, and Garriepy does an excellent job of staying true to their professional passions while kindling the flame on their personal ones. When Sweet Pease ends, I hated leaving Thornton. Thankfully Garriepy promises to come back (at least) one last time in the future third novel in this compelling series.
Learn more about Cameron D. Garriepy and purchase her books on her author site.
*Disclosure: I received an advance reading copy for consideration for review. All opinions are my own.