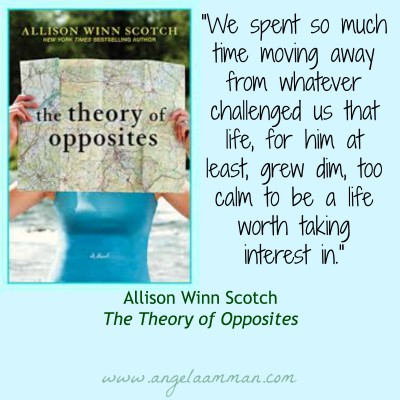 Fate, faith and inevitability twist together in my head a lot, and I think about them perhaps more than I should. Back in the day, before I knew exactly what I wanted to do with my life…
allowing for pause for laughter, because who ever really knows the answer to that dilemma?
… I dabbled in philosophy classes. I adored the dabbling: lots of reading, lots of discussion, lots of papers where I could prove something with all sorts of textual evidence and then disprove it the very next week with conflicting ideas. My head might have exploded seven times in one semester, but years later I can't shake everything I learned and unlearned and relearned back then, and a lot of what resonated with me had to do with free will.
In The Theory of Opposites by Allison Winn Scotch Richard Chandler would have spit in my soup for suggesting such a concept could actually hold true. Richard Chandler made his living on his steadfast, almost-lifelong philosophy that everything in life happens for a reason, and that everything that happens is absolutely inevitable and out of your control.
Willa Chandler-Golden, his middle daughter, could hardly have been expected to take control of her own life after being exposed to her father's dogmatic beliefs her entire life. But Willa is more than a simple follower of her dad's philosophy — she's coasted through life along the path of least resistance. Her career, her husband, her Sunday breakfasts are all predictable, comfortable and absolutely what they are supposed to be.
Until they're not.
Willa's husband Shawn decides he needs a break, she and her boss are fired unceremoniously after losing a big account, and her brother's Namaste-focused nature gets her evicted from her apartment.
Willa's best friend decides Willa needs to challenge her father's stranglehold on her approach, and they're going to do it in a book form based on a popular reality TV show. And so begins Willa's journey to "resist inertia" in her life.
Allison Winn Scotch's characters are quirky, fun and perfectly set in the midst of lifestyles that allow for a little tongue-in-cheek humor while easily explaining non-working hours and private jets. While she sets her characters in a relatively comfortable existence, she never shirks away from putting them in difficult emotional situations.
Willa finds herself in the midst of a strange sort of love triangle she never expected to worry about once she got married, but once her husband changed the rules — and her best friend challenged her to change her own — many of the comfortable tenants by which she'd been living her life start to crumble around her feet. The ideas of fate and choice confront Willa constantly through the book, and the reader watches as she struggles to assert her own wants and needs even when it makes her emotionally — and physically — exhausted.
The Theory of Opposites is about Willa's self-discovery more than it is about her marriage, and Willa herself begins to understand that what she's fighting for might be different at the end of her quest than it is when she begins.
Allison Winn Scotch's book will appeal to rom-com fans and fans of women's fiction. The light tone makes The Theory of Opposites a truly fun book, but the questions raised throughout the novel will make readers consider the roles of fate and choice in their own lives.
Do you believe in fate? 
I received a copy of The Theory of Opposites by Allison Winn Scotch for consideration for review through the SheReads network. All opinions are my own.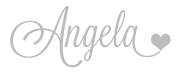 Angela
Welcome to Tread Softly! My name is Angela Amman, and I'm a freelance writer, lifestyle blogger and managing editor of an on-line writing community. I run for fun, write short stories and write non-fiction looking at the world through the lens of a mother to young children.