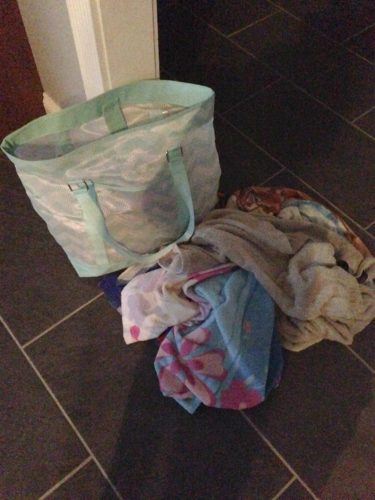 The neighborhood pool opened yesterday. We didn't make it there Friday night, in part because of other plans, and in part because Michigan weather dictates that 86 degree weather one day in May calls for the balance of 66 degree weather another day.
Despite only slightly better weather, we knew we'd make it there Saturday. I thought we'd go fairly early, but I got wrapped up in a book. I told the kids to do something besides Minecraft while I finished a chapter — that turned into finishing the book — and they decided to make slime. Two containers of glitter and 1476 squirts of kitchen cleaner later, we finally packed one of our many summer bags and made it to the (slightly chilly) club.
We don't belong to a fancy pool club with cocktails and waiters and poolside pedicures. (I made up that last part, because oh my goodness, in the direct sunlight my feet desperately cried out for a poolside pedicure.) We go to a pool with diving boards and swim lanes, tennis courts, and basketballs, and a playscape in the sand that all the moms groan at during the first few weeks and then become accustomed to gritty mudroom floors for the rest of the summer.
We're only second-year members, and I can easily say it's become a happy place for our family.
It's also become a place where my children turn into towel-using monsters. Towels to spread on chairs and towels to wrap around goose-pimpled bodies. Towels to twist into hammocks and towels to wrap wet hair. Towels for post-swim showers and towels for no real reason except they're touching the other wet, sandy towels in the pool bag.
I look at them for a moment as the kids traipse to bed, a heap of dampness I feel compelled to wash, though the kids would never notice if I just tossed them in the dryer instead. For some reason, I smile as I toss them in the washer, their damp weight heavier than I remember from last summer.
Not every day of summer will present itself in the idyllic filters of the first day at the pool. Someone will get left out of a game and someone will trip and fall and childhood sassiness will tumble out of mouths in surprising ways. I'll feel stressed about working while they're home and guilty about nearly everything, and they'll fight one billion times in the inexplicable way siblings argue, with quick fuses and unspoken makeups.
Still, I wouldn't trade that load of laundry for anything in the world.
They carry more than water and sand, those towels. They whisper the music of summer moments: ice cream melting in dishes as we settle in for a movie night, heads that sag against my shoulders, damp hair smelling of shampoo even while errant grains of sand seem to find themselves on scalps and under fingernails.
That pile of towels carries the promise of summer. They carry the memories we're making, the ones that linger far after I've folded the last towel, warm and soft from the dryer.