I adore books, reading, and all related things like pens, notebooks, and cozy corners in couches. When Ryan and I went to Denver last year, we spent time wandering around a bookstore, and the kids and I hit the library as often as we can.

Visit Bookstock to stock your shelves
I'm happy to help promote #BookstockMI this year, Detroit's biggest used book and media sale. I mean, look at that amazing tagline: Supporting the need to read. Getting books into people's hands promotes reading. I love seeing my kids get excited about new books, new stories, and new adventures in worlds that exist between the covers of a book.
Bookstock offers over 200,000 gently used books and media items for sale. All items have been donated and presorted, and you just know countless treasures hide on the shelves of the sale. You don't want to miss this event. Whether you're shopping for your own home, for gifts, or maybe even for your child's teacher's classroom, you'll find everything you need — and more — at this sale.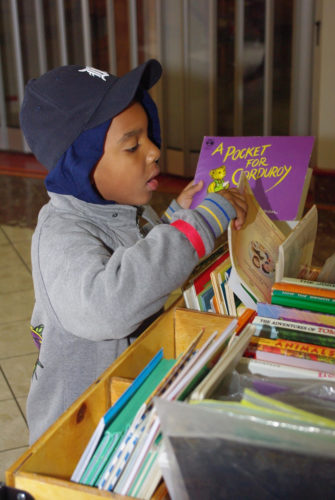 Bookstock supports literacy
Good deals abound at Bookstock, of course, but the sale does more than offer a week's worth of shopping. Marking 15 years of supporting the need to read, Bookstock has generated nearly $1.7 million for literacy and education projects throughout Oakland County and Detroit. More than 800 volunteers work together throughout the year to organize and staff the weeklong Bookstock sale.
Bookstock is brought to the community by the Jewish Community Relations Council/AJC, and a consortium of non-profit organizations that support education and literacy projects throughout metro Detroit. For more information about Bookstook, call the Bookstock hotline, (248) 645-7840, ext. 365, or visit bookstockmi.org.
Special shopping days
If you love getting extra-good deals (who doesn't?) check out the special shopping opportunities happening during Bookstock:
Monday Madness – 

Monday, April 24

: The first 1,000 shoppers will receive spectacular giveaways and one lucky shopper will receive a $500 VISA gift card.
Teacher Appreciation Day – 

Tuesday, April 25

: 

Bookstock

 is celebrating teachers by giving 50% off to all teachers with a valid ID from 

3–9 p.m.

 At 

5 p.m.

, the 

Bookstock

  B.E.S.T.* Awards, (

Bookstock

 Extraordinary Student/School/Teacher)will be presented to fourth grade students from Detroit Public Schools Community District who write the best essays entitled, "My Favorite 

Book

 Character…and Why." A WDIV TV personality, will present the awards live,and cash prizes will be given to five students, their teachers and their schools.
Cookstock – 

Wednesday, April 26

:  

Bookstock

 will feature the area's largest collection of gently used cookbooks, and local TV celebrities Tati Amare (WDIV- 4), Carolyn Clifford (WXYZ-7) and Sherry Margolis (Fox 2) will announce the winners of the first Cookstock Recipe Contest at 5 .pm. at 

Bookstock

, the first recipe contest to benefit literacy in Michigan!
Bookbuster Special Days – 

Thursday, April 27 and Friday, April 28

: Buy three books and get the fourth 

book

 *free (*least expensive item) from 

3 – 9 p.m.

 Spend $25 or more either night and be entered in a special drawing for: 

4 tickets to a Red Wings game in the new Little Caesars Arena
A piece of the Palace floor signed by Pistons Bad Boy Bill Laimbeer
A two night stay and two rounds of Golf for two people at Treetops Resort in Gaylord

Half Price Finale, 

Sunday, April 30

: All books and media will be sold for half price!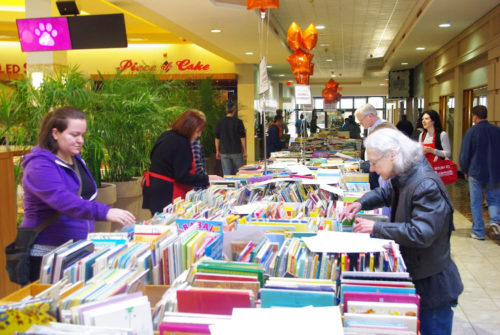 More details about Bookstock
Detroit Free Press columnist Rochelle Riley and Detroit News columnist Neal Rubin are Honorary Co-Chairs of Bookstock and the Mike Morse Law Firm is Bookstock's 2017 Presenting Sponsor.
Bookstock's Pre-Sale will kick-off on Sunday, April 23 at 8:15 a.m. with a performance by Livonia's Churchill High School Drumline. There is a $20 admission charge for the Pre-Sale only, which runs through 11 a.m. and offers savvy shoppers and collectors first crack at Bookstock's treasure trove of bargains.
Bookstock has over 200,000 donated used books, DVDs, CDs, books on tape, magazines and records for sale at bargain basement prices.
The sale will continue through Sunday, April 30, running Sundays, 11 a.m.-6 p.m. and Monday through Saturday 10 a.m. – 9 p.m.
Keep up with Bookstock online