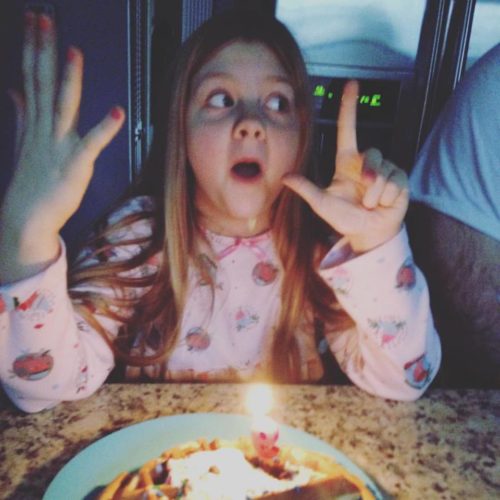 Dear Abbey,
We started the day with birthday waffles, piling sweet bits of chocolate and sprinkles and whipped cream onto waffles that soon resemble morning cake more than breakfast. My photos blur again and again. I need a new camera, true, but you're animated and silly and utterly you when you're home with us.
Later, we talked to you about the concept of "halftime," this point in your life when you're halfway to eighteen. You talked about it in the sense that you could basically make all of your own decisions, and my stomach hurt when I thought about the possibility that you'll be making those decisions somewhere away from home.
The thing about this halftime birthday hides somewhere between the wispy outline of your future and the concrete reality of now, where we watch you grow and change a little each day. It's impossible to explain to you that eighteen isn't a magical age where decision making happens easily and cleanly; we need to do our best to let you make decisions all the time, balancing that with our desperate wishes to keep you smiling and safe and untouched by the messiness of missteps.
Nine feels magical, though, just like each of your birthdays exuded their own kind of magic. You love dancing, on stages and in the living room, in costumes, in character, and in a pair of shorts and old t-shirt from Vacation Bible School. I appreciate your moments on stage, of course, seeing the results of your concentration and practicing, but lately there's something extraordinary about getting a glimpse of you dancing in the playroom on your own. You love music and movement so much, even without an audience to cheer you on.
I try to let you navigate your class projects on your own, even when I have to sit on my hands and bite my tongue. Still, as you worked on a character report this month, I loved chatting with you about A Wrinkle in Time. Your perspective made the story new again, and not in the abstract way children make everything seem fresh and new. We were able to really talk about the book and about bravery and fear, and I hope you and I will always find a way to connect about tough topics.
You're kindest to your adoring brother when no one's watching, and I'm in awe of your relationship with him. I hope you always love purple and glitter, singing loudly and laughing with your eyes squeezed shut. I hope you make silly faces and pick up slugs and worms even when you're wearing something fancy.
One day I might figure out how to be the best mom I can be. I'm learning as we go, my love, and I know I make mistakes — and I know you're getting old enough to see them. One thing I hope you always know is how immeasurably loved you are. You, Abbey Rose, are more than I could have ever hoped for or imagined in a daughter. May the second "half" of this amazing game be filled with love, laughter, and celebratory chocolate.
Love always,
Mommy