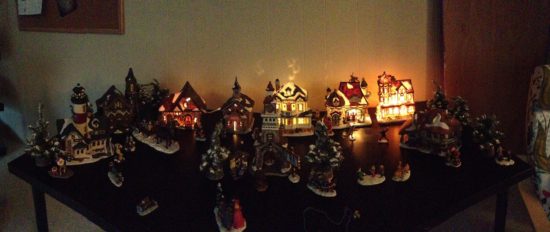 I put up my Nan's Christmas village this year, little homes and a winery and lots of people and trees curated on a table.
When Nan moved into her senior living apartment, she couldn't set up her village and my sister-in-law and I divided it amongst ourselves at her request. My first attempt at a set up was a little bit more of an experiment than an implementation. I didn't do fake snow or shoeboxes for hills, and I let the kids figure out their favorite places for the figures.
With the miniature houses lit and my own house quiet, I kind of wished I could crawl into the sort of life promised on a single tabletop. A toy shop, lighthouse, and a little school, all within walking distance; kids playing in the snow and a fisherman resting on a bench while seagulls perch near him.
Some of my stories take place in a town called Warden's Bluff, a little corner of the world that I imagine looks a bit like the village I set up earlier this month. Yet even in a world I've created, my characters can't manage to live up to the utopian ideals of a Christmas village. Life, both fictional and real, is messier than ceramic houses might lead you to believe.
Part of me thinks that if I make the right resolutions and goals at the beginning of the new year, I can create my own version of the idyllic village. If I just do the right things, find the right combination of action and ambition, I might also be able to find myself walking past a clock tower while dodging snowballs from impeccably dressed children.
The other part of me knows the Christmas village only exists on a table in my family room.
2016 hurt. Losing my dad changed the way I look at the universe; the infinite suddenly feels finite, and I find myself vacillating between urgency and paralytic doubt. Life was achingly beautiful and undoubtedly disappointing, both before and after April 10th, but my reactions to those moments haven't been the same since.
Right now, the idea of resolutions seems insurmountable. Some days I want to change everything, and other days I want things to stay exactly as they are, at exactly that minute. I'm not the only one who feels like that, and a few years ago I noticed people claiming a word for the year instead of making a list of resolutions. I've done it in the past, and I'm going to try it again for 2017.
My word of the year is a wisp of a word, but it might be one of the things with which I most struggle.
In 2017, I want to "do".
I spend a lot of time dreaming and imagining, thinking and planning, and sometimes the doing falls between cracks.
I can't shape my life into the sort promised by shellacked ceramic, but I do hold strongly onto the hope that by "do"ing more this year, I can make my own life a comfortable place filled with joyful moments, surrounded by the family and friends I love.
Happy New Year, friends. May your 2017 be filled with light.