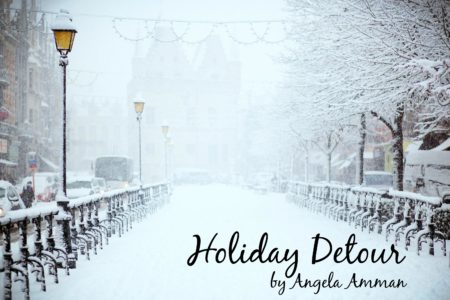 "Sugar, are you sure you need to fly home today?"
Margot wished she lived in a world where no one called her Sugar, but Nora was about eighty-five, and Margot was fairly sure she called every woman she met Sugar. The men, she'd learned, were generally Buddy or Bub, and the generic monikers were delivered with such sincerity that Nora Lou was rarely corrected. After all, she'd been christened Eleanor Louise but had been Nora Lou long enough that Eleanor seemed much too formal for the spitfire bed and breakfast owner who still insisted on making her own biscuits each morning, even though she'd hired a cook for just about everything else.
"Well, ma'am, I don't think you want to be cooking Christmas Eve dinner for just me," Margot said, gesturing around the echoing hallways of the quaint cottage-like home. She'd first booked a room at the bed and breakfast while she was doing a training session four years before, after the conference center where she'd had a reservation egregiously double booked a third of their rooms. Staying at the Camellia Cottage had made her teeth hurt with its quaintness, but she'd fallen in love with the little inn and never booked anywhere else when she swung through Charlotte for a training session.
"For you, Sugar, I'd bring out the fancy linens," Nora Lou winked.
Margot checked her phone one last time with a smile. Fancy linens seemed to be the only ones available at the Camellia, and it was part of what she loved about it. Living in generic hotel rooms had started sucking at her soul well over a year ago, and Nora Lou's hospitality offered a bit of a balm, if only for a few days at a time.
"I know you would," Margot said. "I can't imagine not being home on Christmas, though."
The lie felt almost like the truth. She'd repeated it over and over the last few days, and she wished desperately that she believed it. Reality wavered, of course, and she wasn't even sure the little apartment in Buffalo would feel like home when she got there. The last time she'd walked into the foyer several weeks ago, she hadn't recognized its scent. Since then, she'd been desperately lonely for something she couldn't define.
"Are you going to pull out that fancy planner of yours and book your next stay? I just can't believe we're welcoming in another new year."
"I don't think so, Nora Lou. I keep saying this is going to be my last training jaunt."
"Well then, Sugar. You get over here and give me a big squeeze. I'll miss seeing your smile around here," Nora Lou said, and Margot realized with a pang that the older woman's lilac talcum powdered hair smelled more like home than anything else she could remember. "Maybe you'll bring that good looking husband of yours back for a weekend once you get things settled with the business."
Another one of Margot's lies hit her in the gut. She'd confided to Nora Lou that she was ready to sell the business she ran with her husband, but she hadn't admitted she was alone in that sentiment.
"Maybe," she said, promising something she didn't know she could deliver.
"Oh my! I almost forgot!" Nora Lou reached up onto her tip toes to retrieve a large mailer from the top of the old fashioned apothecary cupboards behind the desk. "This arrived for you while you were out running this morning."
Margot's forehead furrowed. She hadn't requested any documents. An unfamiliar law firm's address shouted at her from the return address slot, and her stomach plummeted. She'd been bracing herself for this package since the last fight she'd had with Vance, but in her worst nightmares, she hadn't expected to receive divorce papers on the day before Christmas Eve.
…to be continued.
Happy Holiday season, friends!
It's that time of year! Holiday Detour is my annual adventure into a Christmas short story. Hopefully, a bit of serial storytelling will keep you in a festive state of mind.
If you missed last year's story, it's now available—along with two beauties from Mandy Dawson and Cameron D. Garriepy—on Kindle and in paperback.