Recapping conferences eludes me, though words are my favorite things. I generally have access to a cornucopia of them, but I stumble when I'm trying to parlay an experience I shared with thousands of other people, each of them with their own perspective on the event. Each BlogHer has unfolded differently for me, and each one offered opportunities, laughter, and revelations I needed, sought and appreciated, both in the moment and when I reflect on my three days in Los Angeles.
Getting inspired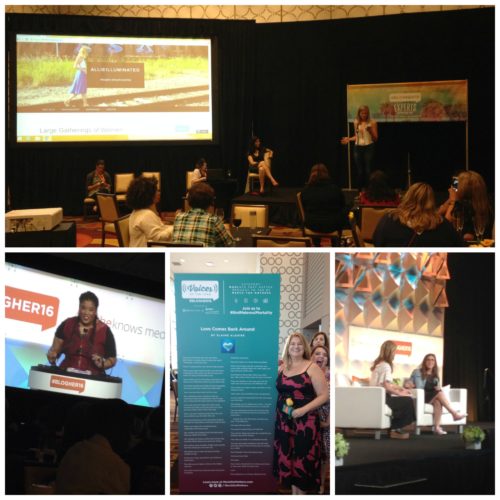 As my blog transitions — or as I transition it, at a snail's pace — to an author website, conferences become less about connecting with brands and more about reigniting a spark of inspiration. No matter what else happens during BlogHer, I always walk away with more ideas than I know what to do with and the effervescent energy to put at least a few of them into motion.
Some of my most inspiring moments this year came from: the Open Mic event hosted by Ann Imig, storytelling goddess and founding genius of Listen to Your Mother; The Pitch, where passionate entrepreneurs get feedback — and compete for a stellar prize — on their business pitches; the Voices of the Year ceremony, where authors, photographers, videographers, and tireless advocates are honored for their work — there's Elaine with her winning piece; a lunchtime keynote with Mayim Bialik — founder of Grok Nation, neuroscientist, and a shining example of embracing exactly who you are and making a place for the things you love, admire, and champion.
Reflecting on Los Angeles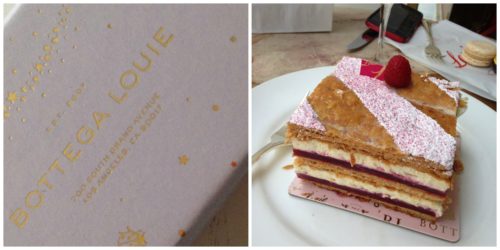 Maybe I don't know how to navigate the city correctly, but I'll always prefer the bustling walkability of New York to the sprawling Uber-mecca of LA. Still, the few blocks I did explore included a Sprinkles cupcake shop — one which offered BOGO cupcakes with a flash of our BlogHer badges — and the incomparable Bottega Louie. I snagged macarons for Ryan and the kids and coaxed Mandy into splitting a beauty of a raspberry Neopolitan, and I appreciated the city just a little bit more after falling into a sweetness vortex.
Appreciating sponsors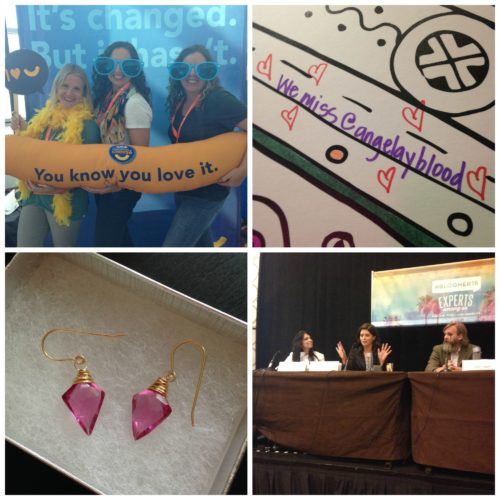 The BlogHer sponsors pull out all the creative stops to interact with bloggers and social media influencers in fun ways. I didn't even mind the yellow feathers from the Kraft Mac & Cheese boa, where I posed with two of the three best roommates I could have hoped to snag — Kristin and Leigh Ann.
As TNT prepares to launch Good Behavior, they made sure we had the chance to check out scenes from the show at their oasis of a booth. Free manicures, cushy couches, and wall murals just waiting to be colored with Sharpies. I couldn't miss sending a little message to the fabulous Angela, who didn't attend the conference this year, on the heels of an epic family road trip.
For the second time, I attended an event hosted by Merck for Mothers, one focused on their #EndMaternalMortality initiative. It's unfathomable that maternal mortality is on the rise in the United States, and it's terrifying when you hear statistics about the "near misses" that happen to women each day — one every ten minutes. I hope the conversation surrounding this issue continues — and deepens — so medical and mental maternal mortality begins to take a downward turn.
I can safely say my favorite takeaway from our conference bags came from The Artisan Group, a collective of artisans crafting beautiful things, like these earrings from Starletta Designs. Abbey has her eye on the perfectly pink gems, but I'm keeping them for myself for now.
Digging into the craft of writing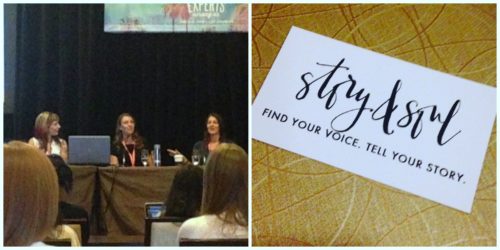 In between all of the meeting with friends and getting inspired and chatting with sponsors, BlogHer manages to put together several speaker tracks of sessions. My favorite this year was a panel with Jillian Lauren, Claire Bidwell Smith, and Jenny Feldon, the force behind the Story & Soul writing community based in LA. Each of the authors has written a memoir, and the session was listed with a memoir focus.
Though my current passion projects are fictional, I've read each of the authors and hoped I could glean some tips and advice for fiction writing. I came away from the session inspired and humbled, not by the final products produced by the Story & Soul writers, but by the effort they focus on their craft. The overwhelming message was "put in the work," which writers of any genre can pin to their vision boards and revisit when we're feeling overwhelmed by editing, publishing, or networking.
Connecting with friends

From tears and laughter in hotel rooms to chance meetings with people I've admired — and whose work I've read — for years, I feel incredibly lucky to mingle with fellow writers, bloggers, and influencers for a few days each summer. Meeting with friends, co-workers, and writing group members is consistently a highlight of the conference for me, and I was lucky enough to meet a few of my faves in person for the first time this year.
Mandy didn't even come to BlogHer, but her amazing self took advantage of the California location to come to me, bearing gifts like Cal Poly jam and wine, but more importantly bearing the gift of finally meeting one of my closest friends and part of a trifecta of writing awesomeness that keeps me sane and keeps my fingers moving over the keyboard. We look crazy with excitement, and we were, having just sprinted across a much-too-classy-for-sprinting JW Marriott lobby to hug. We spent a few hours walking, eating desserts, talking about our current projects and the state of writing and publishing. And we went to Target, which is exactly what girlfriends do, and it felt perfect.
Tonya is one of the founders of Take Flight Social, a company that's kindly brought me on board, and getting to talk to her in the LA air instead of over Voxer was fantastic. Kim Tracy Prince inspires me, along with Charlene Snyder Ross and a group of fabulous women who didn't make it to the conference to join the three of us on the dance floor at the closing party.
One last thing…
Something you'll notice is that I'm the worst at taking photos when I'm basking in exciting moments, but you can see a little more from Jennifer and Elaine, two of my friends who don't forget to pull out their cameras when fun things are happening.
Really, one last thing…
I can't say enough about the organization of the BlogHer conferences, because the logistics of such a large event make my head spin. The BlogHer and SheKnows teams work their tushes off all weekend — and they do it with huge smiles, taking the time to say hello even when you just know they need to run to finalize details or take care of the 1897th item on their to-do lists. I hope they know how much we appreciate their tireless work!