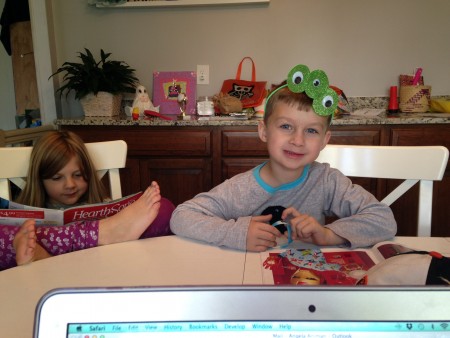 Some days I feel like I have the whole working-at-home thing under control. I get (some of) the laundry done, and I make a (reasonably) healthy dinner, and everyone gets where they need to be on time.
Other days, I'm not so sure.
The kids are off school for Election Day — and if you're reading this, I absolutely encourage you to get out and vote.
We love the voting process here, and we're going to be at the polls soon. Our community is voting on a bond proposal with huge implications for the schools our kids will be attending for the next 12 years, and there's nothing that would keep us from voting for it. Both kids get a kick out of the process: the standup booths, the oversized ballots, the machine that gobbles your vote into its stomach to process. I've been bringing them along since they were too little to understand what we were doing, and I fervently hope our discussions and participation plant the seed that voting isn't an optional part of their citizenship.
I wanted to be at our polling location for most of the morning, holding a sign and letting voters see exactly who will be affected by their vote.
I have a conference call, though, so our presence is delayed.
Putting off my work isn't an option, though I'll work a few hours tonight to make up for the time spent singing to The Descendants soundtrack and helping with Christmas lists. I'd like to say the kids spent the morning working on educationally-appropriate crafts. Instead, one of them wore his pajamas until lunch time and both of them spent an inordinate amount of time thumbing through catalogs to put together Christmas wish lists for their grandmother.
I came to NaBloPoMo hoping to find some beauty in my words, but some days I know I'll just write for my allotted time and end up with a smorgasbord of letters on the page. Accepting that will make the month's writing worth it, just like I accepted pajamas until 11:00 a.m. and catalogs instead of crafts. Some days, just writing has to be enough — even when its amidst deadlines, distractions, and Disney soundtracks.
While I was working, they wandered from the table, sketching chalk drawings on the patio under the sun and humming along to the songs in their heads.
Not every day looks picture perfect, but moments of those imperfect days will settle in my heart, if I let them.