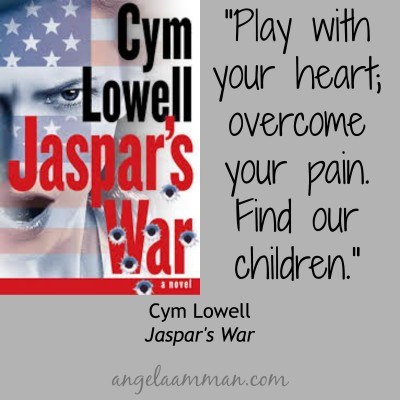 Monsters hid under my bed when I was a child. I'd swing my feet onto the cool metal bar that surrounded the box spring before catapulting to the floor at least a foot from my bed. It sat high above the ground — I knew I could fit under there with a flashlight to read, so the darker corners of my imagination painted something unthinkable lurking there as I slept.
As a mother, the monsters are more defined. My chest tightened as I read about the disappearance of Jaspar's children in Jaspar's War. For the rest of Cym Lowell's novel, my thoughts were that of a mother molding herself into someone who would find her kidnapped kids.
As Jaspar morphs into "Jas," a warrior molded by the assassin-for-hire, Nul, the action in the plot climbs with each page. There are shoot-outs and chases through alleys, and an attack that involves stripping down to nothing that — to be completely honest — I felt was strangely unnecessary.
As someone who doesn't typically read action thrillers, I found myself questioning some of those sequences, but I kept reading. The promise of the ethical pull of a mother looking for her children propelled me forward through the story. I needed to know how things would end for Jas and her kids.
For readers looking for action and adventure, Jaspar's War has that bursting from its seams. There's a healthy shot of sexual tension between Jas and Nul that I couldn't buy into completely. So much of Jas's identity centers on her family, including her relationship with her husband, that even when he's presumed dead I had a hard time believing she would work through even the beginning stages of grief in the time it takes for her to feel attracted to someone else on even a visceral level.
I found myself focusing on the lengths to which Jas would go to save her children. Seeing an intelligent, fit mother turn into a human weapon works for an action story, but I was more interested in the mental transformation she undergoes.
I would have loved to see Lowell explore the link between her Catholic faith, her innate morality and her desperate desire to bring her children back to her. Those themes are touched upon throughout the book, but they get a little lost in the game surrounding world finances, political maneuvering and copious amounts of bullets.
Do you enjoy action novels? Do you find yourself looking for motivation behind the action?
Disclosure: I received a copy of Jaspar's War for consideration for review. All opinions are my own.