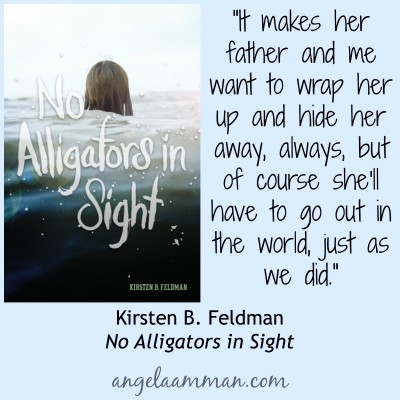 Eight days.
Abbey has eight days of kindergarten left, and it's mind-boggling that she's suddenly going to be in first grade. Our routine won't change all that much next year — first graders line up right next to the kindergartners before school, so our line location doesn't even change. Something about the number "1" instead of the letter "K," though, feels like another milestone racing by as I struggle to keep up.
No Alligators in Sight begins with a daughter finding her mother's old journal, with the mother thinking about how difficult times sometimes lead to the most beautiful. The story Kirsten B. Feldman tells is that of the mother, the plot unfolding through journal entries and the events that take place the summer she's thirteen.
Leticia desperately wants to be called Annie, a name gleaned from her confirmation name — after Saint Anne — and one that seems so much more normal than Lettie. Wanting her name to be normal is only the surface of what Annie would like to change. She's a quasi-adult: a thirteen year old girl who takes care of her nine year old brother and functioning alcoholic of a father, budgeting money and accepting favors and dealing with the bubbling anger and apathy that characterize her relationship with there dad.
When Annie angers Joel, her father, he flies her and her little brother down to the Florida Keys to see how their lives would be different if they lived with their mother. Gertrude is a wispy concept of a mother in their minds. She left Massachusetts six years before to pursue her art career, and Annie can't help but vacillate between anger towards the abandonment and hope that she'll be able to find the normalcy she craves in her mother's love.
No Alligators in Sight made me incredibly sad at first, which is exactly the reaction Annie's daughter has when she finds her mom's journal while looking for fairy wings in the attic. I clung to the idea of those fairy wings — and the mention of A Midsummer Night's Dream, one of my favorite Shakespeare plays — and hoped that a story ending in the search for fairy wings couldn't be all sad.
I hated the idea that a thirteen year old had so much responsibility to shoulder, that she had so little room for mistakes teenagers are supposed to be making and from which they are supposed to be learning. I felt guilty knowing Annie's life is a reality for so many kids, guilty for not being able to wave a wand and fix things for all of those thirteen year olds.
But along with a tough situation, Annie has a spirit formed of sarcasm and intelligence — and a fierce sense of love and loyalty she doesn't even quite understand herself until it's tested. I loved watching her learn about her family, about herself, and about the changes people can make when they have the right motivation. As the summer winds to a close, Annie begins to see that shedding her name and her life for something "normal" might mean sacrificing a crucial part of herself.
No Alligators in Sight is a quick read that will appeal to a lot of readers, and reading it with your favorite tween or teen will provide a lot of conversation fodder for summer evenings.
Can you think of a particular summer in your life that changed the way you think?
Disclosure: I received a copy of No Alligators in Sight for consideration for review. All opinions are my own.