Charlie watched Josh walk away. He knew nothing good would come of any conversation fueled by tequila and his brother's too-late regret about sleeping around while dating Charlotte. Charlie's own tequila churned in his stomach as he watched a hot-shot freshman hit a last second three point shot that few people noticed. Numbers clicked through his head, and he checked his phone hoping he was wrong.
No such luck.
With that shot, the line on the game was blown, and almost five hundred bucks shifted from his mental credit to his mental debit column.
Texts pinged, and he silenced the phone as the waitress leaned against the table and gathered empty glasses onto her chipped tray. Instead of walking towards the crowd of people near the high tops next to the bar, she rested her tray on the table and slid into Josh's spot.
"You're Charlie."
He had to lean in to hear her. Cinnamon gum and some sort of perfume that smelled like flowers hung in the air between them. The cloying scent didn't suit her, but the cinnamon did.
He was intrigued.
"Sure am. And you are?"
"Lauren," she said, holding out her hand. That surprised him, as did the firmness from fingers that were completely engulfed by his own hand.
"Have we met? Do you go to Occidental?" Charlie's eyes locked on hers, and he couldn't blink. He knew he would have remembered her eyes; they must have been blue, but in the dimness of the bar they were so pale they almost glowed.
"Caltech," she said, meeting his raised eyebrow with her own.
"Well, Lauren from Caltech, how can I help you? Not that I mind if you sit here the rest of the night," Charlie felt himself smile, knowing the impact of the dimples he'd hated so much as a child.
"I hear you're someone I might want to know."
He could feel tension radiating from the fingers drumming on the table. Her eyes were still calm, but her foot was jiggling against the table leg.
"You heard wrong. I don't… well… I don't work in pharmaceuticals anymore."
Derision crept into those icy eyes.
"Drugs? I work in a college bar. I don't need to talk to you about drugs," she said. She folded her hands on the table in front of her, the tension gone.
"I'm more interested in the card games you're running."
"I don't know what you heard, but private gambling's illegal."
"I get off at eleven. You can wait here or pick me up at 11:15." She picked up her tray.
She never looked back, though he couldn't drag his eyes from the clinging black shorts walking away. Charlie was rarely surprised, but for the first time in days he forgot about basketball, his looming tuition bill, and everything but the smell of cinnamon and those blue eyes.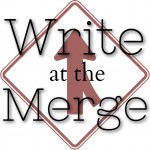 the prompt:
"Sometimes legends make reality, and become more useful than the facts."
~ Salman Rushdie
link up with Write at the Merge