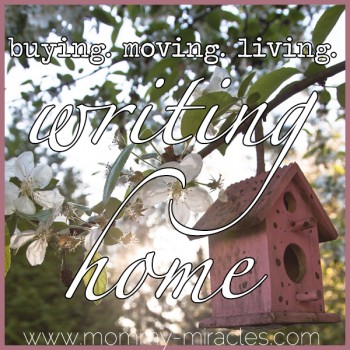 Boxes multiplied each night, stacked in corners and dragged across the floor when I packed one too many pots into another kitchen box. Clothes shifted between three piles: storage, packed for my parents', and going to charity. A single toy box was supposed to house the toys the kids could take with them to Grandma and Grandpa's, where we'll be staying in the period between closing on our used-to-be-ours home and our new-to-us house.
We're not the only family moving this summer, and my friend Laura is hosting a "Writing Home" series about the serious and not-so-serious sides of moving. Join me there this morning while I talk about being between places, and bring some coffee — I'm not sure what I did with mine.
If you're visiting from Mommy Miracles, thank you and welcome! I hope you stay for a while and visit some of my favorite posts.