contest winners can be found here
Just over a week ago we submitted kindergarten paperwork to have Abbey transferred to a different school in our district, one that runs the IB curriculum. Though we aren't expecting to hear for at least a month whether there's space in the program, my impatient brain is pacing in my skull and trying not to keep track of how many days it's been.
I remember my kindergarten classroom, oversized letters marching near the ceiling. D, in case you didn't know, is for dragon, the scaly, green tail curving around the letter. We practiced with scissors, dull silver with perfectly round holes for chubby fingers, and we hung our bags and tucked our boots into cubbies in the back of the room.
Kindergarten… Mrs. Goodman… the memories of that year are joy-tinged light, beginning my love affair with letters and the way they piece together into words. I want Abbey to have a magical year, and my fingers are tightly crossed that she'll enter a classroom next year in our first choice of schools.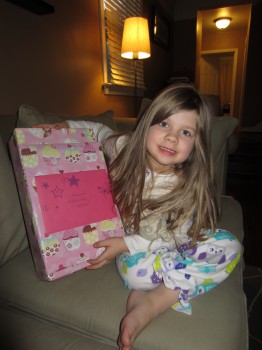 Abbey?
She's most concerned about her lunchbox. She wants one that matches her backpack, and if they don't have the same pattern, well, she's conflicted. "We'll just have to look and see, Mommy," she tells me, often, discounting the months and months between today and the first day of kindergarten. We talk about the learning part, and she shrugs, "Well, those parts are easy. But I really want a bird lunch box."
I'm concerned with her overall kindy experience, and she's concerned with shopping for it. (And for the record, she very much approves of the dress I wore for my kindergarten picture!)
I'm so excited to combine the two things, get together with a fabulous bunch of bloggers (there are 23 of us!), and do something fun for you, our readers? Introducing: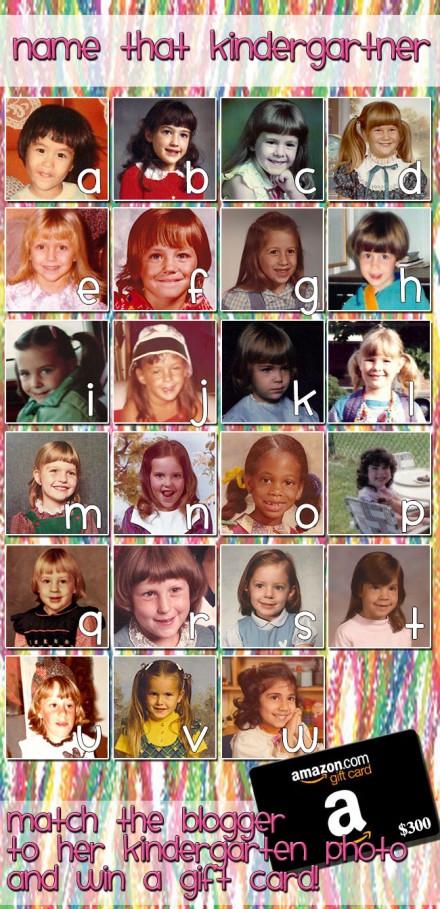 It's very simple — just match the picture (with the assigned alphabet) to the blogger whose blog is listed below. What's in it for you? Other than some fun (and it's fun, promise), you can win an awesome $300 Amazon gift card. You can also get to know some of the bloggers listed here, if you don't already. You can have a laugh at our expenses. Don't worry, we did. Now, go forth and play!
Enter your answers on this form
Participating bloggers, in alphabetical order:
Angela of Angela Amman
Angie of Angie Kinghorn
Deborah of Ask Doctor G
Robin of Farewell Stranger
Poppy of Funny or Snot
Leigh Ann of Genie in a Blog
Greta of Gfunkified
Jennifer of Jennifer P. Williams
Tonya of Letters for Lucas
Kiran of Masala Chica
Laura of Mommy Miracles
Natalie of Mommy of a Monster (and Twins)
Brittany of Mommy Words
Jessica of My Time as Mom
Kimberly of Reflections of Now
Tracy of Sellabit Mum
Elaine of The Miss Elaine-ous Life
Sarah of The Sunday Spill
Galit of These Little Waves
Kristin of Two Cannoli
Arnebya of What Now and Why
Kristin of What She Said
Alison of Writing, Wishing
Terms and conditions apply:
You must be 18 years or older to enter.
This contest is only open to residents of USA and Canada.
This contest is open from March 11 – 15, 2013 (closes at 9pm Eastern).
Visit the link above, where you will be able to enter your guess for each blogger pictured. (All information will be kept private.)
The personˆ to correctly match all the faces with their blog will win a $300 Amazon gift card. The two other closest guesses will each win one $80 Amazon gift card.
ˆIf more than one person correctly matches all the faces with their blogs, we will randomly pick a winner via random.org.
ˆIf no one guesses all the faces correctly, the winner will be the person who made the most correct guesses
This is not a sponsored post. Prizes are paid for out of the participating bloggers' own pockets.
You CAN enter more than once!
Winners will be announced week of March 18.
"Name That Kindergartner" was inspired by the "Name That DIY Blogger" contest, over at My Blessed Life