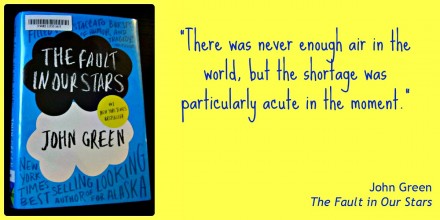 The book sat on my desk longer than many do. I knew I wanted to read and review The Fault in Our Stars by John Green, but I was a little nervous about falling into the story.
To put it very simply, The Fault in Our Stars is a book about teenagers with cancer, teenager dying of cancer, and I've written before about how I have a hard time with stories where bad things happen to kids now that I have my own children. And after reading about and hearing about John Green's book, I knew it was going to be well-written and therefore would have the ability to really wrench apart my heart.
Once I picked it up, the library's copy broken a bit at the binding, it was difficult for me to put down the book. Like Hazel says: "There was never enough air in the world, but the shortage was particularly acute in the moment."
And part of the reason The Fault in Our Stars is so compelling is that calling it a book about teenagers living with cancer is an understatement. Hazel and Augustus's story isn't about their respective bouts with cancer (thyroid metastasized in the lungs and osteosarcoma, respectively). John Green's story is really about the way we live and the way we love.
Green's novel is not a story about cancer, but it's also not a story that transcends cancer, at least not in a simple way. Cancer is so much a part of both Hazel and Gus and their lives that it's impossible to separate the two. At one point they talk about how cancer itself isn't the enemy, that cancer is just another part of themselves struggling for life.
Reading young adult fiction, especially great YA fiction, is like peeking into the world of adolescence. Green writes his characters and their worlds with absolute realism, or what I assume must be realism now that I'm past the point of my own teen years. He captures the nuances of their speech and their ability to be both self-absorbed and utterly concerned with things outside of themselves at the same time.
Much of The Fault in Our Stars centers on Hazel's quest to find out what happens to characters in her favorite book — the fictional An Imperial Affliction — after it ends abruptly. The book brings Hazel and Augustus together and gives them both a shared mission and a shared sense of frustration.
I loved both characters, especially the way their shared and differing opinions wove together with their similar senses of humor to find a way to navigate the perks and downfalls of finding love in the midst of cancer. Perk? Champagne before you're 21 and funded international travel. Downfall? Well the ever-present oxygen tank doesn't allow for much spontaneity. Their discussions about what it means to live an extraordinary life took my breath away and made me sorry I didn't read the book sooner.
The Fault in Our Stars isn't a book about cancer that leaves you with a neatly packaged sense of hope about the universe. But it did leave me with a sense of hope about what we can all find in ourselves, regardless of what might be found in our stars.
What do you think makes an extraordinary life?