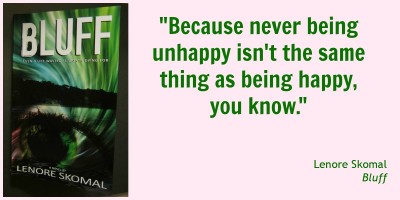 Living with two bundles of energy and dramatic mood swings means my own happiness sometimes slips into a lull of something more like contentment. When I read Lenore Skomal's words in Bluff, I could relate a little: "Because never being unhappy isn't the same thing as being happy, you know."
There's nothing wrong with being content. Contentment is a warm blanket and a cup of tea wafting spicy warmness into the air. As winter settles in with its dark mornings and early sunsets, I welcome the familiarity of that blanket.
But lately I've felt the lightness of happiness in the giddy way my kids feel it every day …the kind of happiness that makes me turn up music and dance in the living room …the kind of happiness I physically feel in my stomach and my heart, making my blood race quickly and my lips smile at absolutely nothing as I type into the hours I should be sleeping away.
Happiness is in the little things but it's also in the realization that reaching for big things is worth celebrating, too.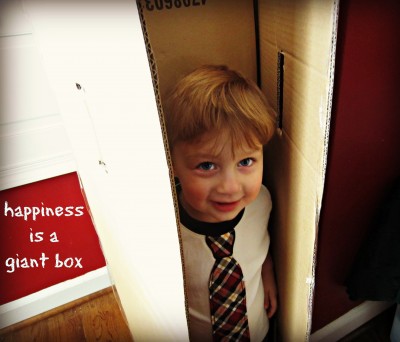 Kids and boxes combine for smiles every time. His imagination makes a tree box into an infinite playspace of cars and rocket ships and clubhouses.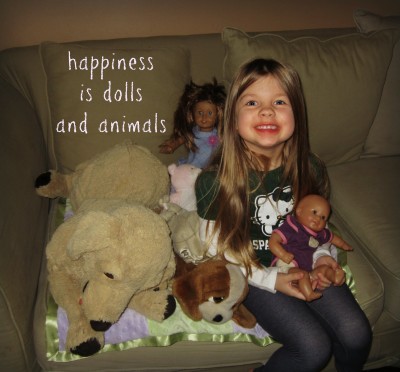 Before leaving for school I need to check her backpack, limiting her to only one "friend" a day so her bag isn't too stuffed with her constant companions to bring home anything other than babies and stuffed animals.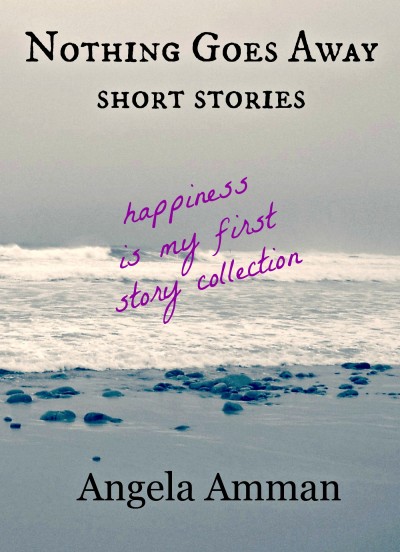 Publishing my short stories thrills me, and not only because I think people will find something compelling within the tales of three women struggling to find hope between the shadows they've built around themselves. Seeing Nothing Goes Away come together meant admitting how much I truly want to share my fiction outside of this space, and there's something utterly freeing (and terrifying) about putting such lofty goals into action. (Have you picked it up? Find it on Smashwords and Amazon!)
Happiness.
I'm liking this feeling.
What's made you happy lately?
I'm linking with Alison and Galit for this month's Memories Captured. Bluff is currently touring with Novel Publicity, which means you can still win some of the fabulous prizes associated with the tour (details below.)
Novel Publicity Blog Tour Notes
Wanna win a $50 gift card or an autographed copy of Bluff?
Leave a comment on my blog. One random commenter during this tour will win a $50 gift card. For the full list of participating blogs, visit the official Bluff tour page.
Enter the Rafflecopter contest! I've posted the contest form below, or you can enter on the tour page linked above.
About the author: Lenore Skomal wants you to eat her books. Her passionate desire is to touch your heart, inspire you, and luxuriate in the world of the written word. She is an award-winning author with the single goal of resonating with others. Winner of multiple awards for blogging, literature, biography and humor, her catalogue spans many genres. With 30 years of writing experience, 18 books published, a daily blog and weekly newspaper column, the consistent themes in her work are the big issues of the human experience and adding depth and voice to the intricacies involved in living a multi-dimensional existence. She has won many Society of Professional Journalist awards, the Whidbey Island Writer's Conference honorable mention for best fiction, Writer's Digest 73rd Annual Fiction Contest, New York Public Library's Best Books for Teens 2003, and most recently, the 2012 Next Generation Indie Book Award for humor for "Burnt Toast.," her first anthology of her award winning humor columns. From journalism, to literary fiction, to humor and biography, her writing is consistent, if not in genre, then in message.
Connect with Lenore on her website, Facebook, GoodReads, or Twitter.
Get Bluff on Amazon.