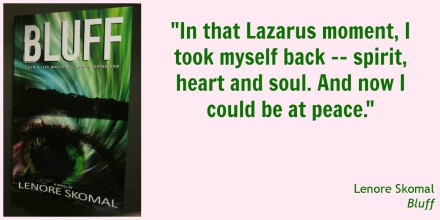 Jude Black isn't exactly a sympathetic character. She's hiding her sexuality, refusing to talk about the circumstances surrounding her pregnancy and drinking and taking prescription drugs while pregnant. Oh. Yes. And she's been found at the bottom of the treacherous bluff on which she lives, battered, broken and in a coma-like state that involves serious, irreversible brain damage.
Such is the main character and the pivot point on the turning wheel that is Bluff, Lenore Skomal's novel about morality, secrets, medical ethics and what really happens in the space between the living and the dead.
*pssst …this book is part of a Novel Publicity Blog Tour …giveaways are involved and you are welcome to enter at the end of this post or elsewhere on the Bluff tour*
Bluff is told from the perspective of several of the key characters in the novel: Jude, Frances (her best friend), April (her estranged sister), Mary Shannon (a nurse), Paul (Mary Shannon's husband). A few minor characters even have the chance to take the wheel for a few pages — Millicent Murphy, a fedora wearing detective, and Marian, Paul's secretary.
Jude's sections are written in the first-person point of view; when the other characters narrate they do so in the third person. Honestly, I wouldn't have thought the shifting perspectives would work, especially with the number of characters sharing the narrative load. Yet Skomal makes it work, in part because there are so many secrets lurking below the surface of what seems to be a fairly typical group of people.
Jude reveals her story from her hospital bed, where her mind is caught in some sort of limbo while her body is kept alive primarily to incubate her developing baby, with a sub-plot involving the ethics involved in brain-injured patients, extraordinary measures to keep them alive and allowing them to be taken off machines in order to provide organ donation. Her matter-of-fact consciousness and understanding of her situation serves to set-up the question of what happens when our body and mind don't cease to function at the same moment.
The storyline is riveting; I was pulled into the story immediately, questioning the events surrounding Jude's fall (including who exactly called 911) and the lives of the people she knew — or thought she knew.
Certain sub-plots in the book felt a bit forced or unnecessary to me, mainly one involving the son of Mary Shannon and Paul. While I understand, after reading the entire book, why it was included I can't help but feel as though there are enough connections and consequences linked directly to Jude's own story without adding additional twists.
Still, Bluff is a worthwhile read. Skomal does a beautiful job showing both the dark and light sides of human nature, often in the same character. Her novel is a sometimes gentle and sometimes stark reminder of the ways in which people love, surprise and betray one another despite what we think we know about the people with whom we share our lives.
The secrets in Bluff generally hurt the people involved. Do you think it's ever a good thing to keep secrets from the people to whom you're the closest?
I received a copy of Bluff for the purpose of this review but was not compensated in any other way. All opinions are my own.
Novel Publicity Blog Tour Notes
Wanna win a $50 gift card or an autographed copy of Bluff?
Leave a comment on my blog. One random commenter during this tour will win a $50 gift card. For the full list of participating blogs, visit the official Bluff tour page.
Enter the Rafflecopter contest! I've posted the contest form below, or you can enter on the tour page linked above.
About the author: Lenore Skomal wants you to eat her books. Her passionate desire is to touch your heart, inspire you, and luxuriate in the world of the written word. She is an award-winning author with the single goal of resonating with others. Winner of multiple awards for blogging, literature, biography and humor, her catalogue spans many genres. With 30 years of writing experience, 18 books published, a daily blog and weekly newspaper column, the consistent themes in her work are the big issues of the human experience and adding depth and voice to the intricacies involved in living a multi-dimensional existence. She has won many Society of Professional Journalist awards, the Whidbey Island Writer's Conference honorable mention for best fiction, Writer's Digest 73rd Annual Fiction Contest, New York Public Library's Best Books for Teens 2003, and most recently, the 2012 Next Generation Indie Book Award for humor for "Burnt Toast.," her first anthology of her award winning humor columns. From journalism, to literary fiction, to humor and biography, her writing is consistent, if not in genre, then in message.
Connect with Lenore on her website, Facebook, GoodReads, or Twitter.
Get Bluff on Amazon.