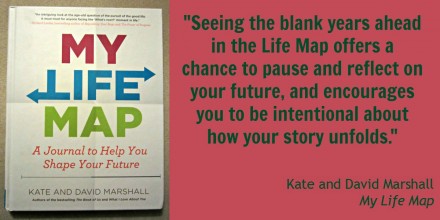 Untangling the different strands of my life goals can seem daunting at times. With only so many hours in a day and so many weeks in a year, I can fall into the trap of focusing so much on day-to-day tasks that the big picture eludes me.
After all, when your favorite little boy finger paints the wood floor (and his chair) with yogurt while you're sprinting to throw clothes between the washer and the dryer, it can seem fruitless to worry about what will be happening in 5 years.
My Life Map wants to change that. The subtitle: "A Journal to Help You Shape Your Future" is an apt description of what readers will find between the pages of this directed journal from Kate and David Marshall.
Created with the idea of developing a comprehensive life map, the journal interspaces explanations and concepts with practical exercises. Readers are tasked to look into their pasts with the idea of working towards a better, more deliberate future.
One of the things I enjoyed about My Life Map was the authors' insistence that the reader determine his or her own best path to complete (or not!) the exercises. The Marshalls talk about different types of thinking (Bottom-Up, Thematic, Top-Down, or Random) and the different ways in which the exercises — and the journal as a whole — can be approached.
For example, there are 8 different sections to map; currently, I'm only really worried about mapping out a few of those. I didn't feel guilty thinking, "Well, I'm only interested in a few of these sections." Mapping your whole life, from birth to death, seems overwhelming — and with so much going on, even slightly self-indulgent — but concentrating on certain areas like "work", "service" and "playing" made it more manageable.
The SMART goals were another great takeaway. Though they're not unique to this book, their inclusion was a tangible reminder to be more precise and exact in what I'd like to accomplish in the future. (Specific, Measurable, Achievable, Relevant, Timely)
Though it may seem counterproductive, thinking of my goals in such a long-term sense actually made them seem more reachable; there are times I get frustrated when things aren't advancing quickly enough. Seeing things mapped out in terms of years and not in the minute checklists I live by was freeing.
Though it might not be for everyone, My Life Map might be something to think about if you're feeling at a crossroads in any area of your life. Also? It's the type of book you can race through for content and then put into practice at your leisure.
Do you have a system (like SMART goals) for thinking about your future, or do you spread your wings and follow the wind?
Interested in learning more about My Life Map? Join us at the BlogHer Book Club where we'll be discussing the journal (and more!)
I was provided with a copy of My Life Map and compensation for this review, courtesy of Penguin Books and BlogHer. All opinions are my own.