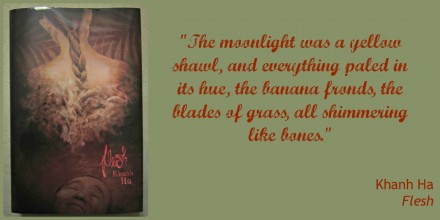 Bank accounts and responsibilities keep me from traveling around the world, and those pesky laws of physics (maybe?) keep me from traveling back in time. Shelves full of books offer the opportunity to make the trips across space and time that can't happen in reality, and exploring other cultures through the written word encourages me to turn pages at a rapid rate and fall into the world created by an author.
Flesh, by Khanh Ha, takes place in Tonkin (now Vietnam) and follows Tai from the day he watches his father, a bandit from the Lau village, beheaded for his role in the attack on the rival village of Chung. Secrecy, betrayal, debt and obligation follow Tai as he works on a boat and then as a errand boy and assistant to two powerful men in the city of Hanoi.
Tai's life is complicated further by his fateful meeting with Xiaoli, a young woman working off her mother's debt and stockpiling additional money by illegally selling the dregs of government-approved opium, a plot point that highlights the complicated and easily corruptible Tonkin government in the late nineteenth century.
When his loyalty to his employer Mr. Cao Lai inexplicably clashes with his escalating relationship with Xiaoli, Tai's past and present lives — and his father's life — slowly reveal themselves to be twisted together in ways he didn't expect.
Flesh is Ha's first novel, and there are some details that fall short of fruition, such as an early emphasis on a Catholic priest who doesn't play nearly as large of a role in the overall story as I expected at the beginning of the story.
Ha's narration shifts from first person to an omniscient third person narrator, allowing the reader access to characters' thoughts and pasts that Tai could not have known from his limited interactions with them. The shifting narration is kept in a similar voice to Tai's, and the story unfolds at a really even keel.
The overall rhythm of the novel is almost like a boat bobbing on calm water; even when traumatic events unfold, they're relayed in such a way that the horror sinks in slowly and completely, instead of slamming at you like a wave. As I was reading, I thought the voice of the story gave Ha's words a quiet strength, but I can see why readers may want a harsher, more passionate, crest in the telling of the most shocking details revealed as Tai learns the truth about his father, his father's death, and his own future.
Flesh's beauty and strongest feature is Ha's attention to the sensual nature of his setting. His writing brings the smells and sounds and minute details of Lau and Hanoi to life, whether he's describing the putrid flesh of a decomposing eel used as an ancient weapon against smallpox or the layers of sights and odors found in an expensive opium den.
Reading Flesh is like stepping back in time and settling in as a fly on the wall of Tai's life. Understated emotion and beautifully rendered details make the story a calm read, despite several instances of violence. Readers expecting an action story filled with executions and opium dens should look elsewhere, but Flesh offers a glimpse of Tonkin life that will leave an impression on your memory.
I received a copy of Flesh, by Khanh Ha, for the purposes of this review, courtesy of a Novel Publicity Book Tour. All opinions are my own. Please check out the rest of the tour or enter for a chance to win a commenter prize from Novel Publicity.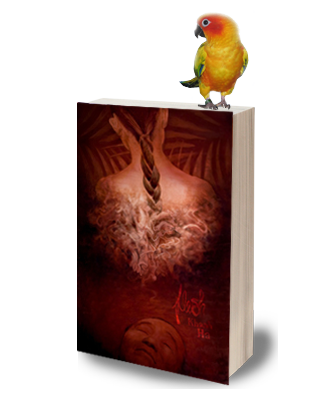 Wanna win a $50 gift card or an autographed copy of Flesh?
Leave a comment on my blog. One random commenter during this tour will win a $50 gift card. For the full list of participating blogs, visit the official Flesh tour page.
Enter the Rafflecopter contest! I've posted the contest form below, or you can enter on the tour page linked above.
About the author: Khanh Ha was born in Hue, the former capital of Vietnam. During his teen years he began writing short stories which won him several awards in the Vietnamese adolescent magazines. He graduated from Ohio University with a bachelor's degree in Journalism. He is at work on a new novel.
Connect with Khanh on his website, blog, Facebook, GoodReads, or Twitter.
Get Flesh on Amazon or Barnes & Noble.