Sandra Boynton books used to crowd the couch at story time, but they've been replaced by Fancy Nancy and Curious George. Days when there are tears shed for unspecified reasons, curling one or both of my little ones into my arms on the couch with a book is one of the only salves that brings everyone's emotions down a notch or seven.
Reviewing Egret the Elephant, written by Corey Feldman and illustrated by Rachel Fishman, was such a treat, as it meant the kids got to enjoy the stories and the illustrations with me.
There are 7 Egret tales in the book, but we first read them in their entirety. Reading is something that slows down my kids for longer than anything else, so I didn't mind making my way through all 7 stories in one sitting.
The illustrations are sweet and colorful; Egret's little tutu is a fun little touch that fits perfectly with her love of music and dancing and 5-year-old-ness. Still, I think my favorite detail in the illustrations is her little night cap in "Egret, Red, and the Mysterious Light".
We've read all of the stories several times, but "Egret, Red, and the Mysterious Light" is one of their favorites. Egret and Red are sisters and not a sister and brother, but they remind me a little of Abbey and Dylan. I can just imagine Abbey convincing Dylan to explore a light out of the window when they should be sleeping: "But how can you sleep when there's a mystery?/I think we should follow it and see what we see."
Feldman's stories are the type of children's stories I don't mind reading time and again with little bodies snuggled against me. While the stories are entertaining and the rhyming lyrical, what draws me to them is the overall sense of beauty and wonder that children will experience through Egret's perspective on the world around her.
What is your child's current favorite book or a book you remember loving from childhood?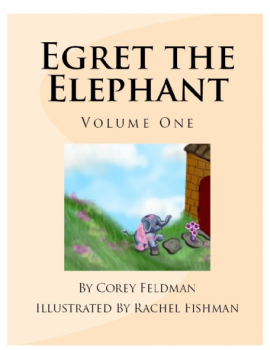 I received a Kindle version of Egret the Elephant for the purpose of this review; all opinions are my own. Egret the Elephant is an independently published children's book and is available in both paperback and Kindle versions on Amazon.