There aren't tears at bedtime anymore.
You climb out of your crib almost silently, creeping into the living room.  You sometimes stop before the little stairs, and we see your head deciding when to join us.
You choose a book and read, and when your voice increases in volume your Daddy or I bring you over to the couch.
Briefly, your head touches my shoulder, "Sorry Mama," your words reach out sweetly, though you aren't sorry enough to simply fall asleep in your room.
And once more we let you work your way into sleep on the couch, a book nearby, until you let Daddy carry you to bed.
For tonight and for many nights before now, it is enough, your steady breathing on the couch next to me.
But soon?  Your toddler bed will have to be enough for you.
And we will figure it out together.
linking up with Galit from These Little Waves and Alison from Mama Wants This!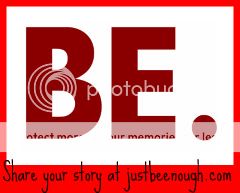 I chose an open-ended Be Enough Me story this week, though the prompt gave us the chance to write a letter to our 16 year old selves. Have you linked up?
Prompt for next week:
What 10 things do you NEED for your Be Enough Journey?
***Or….feel free to link up with a more open ended "Be Enough Me" story***