I didn't want to care.
Sitting and looking at numbers and playing with our budget, I suggested cutting out the most expensive part of my beauty routine, haircuts and highlights from a lovely stylist at a lovely salon.
Ryan's raised eyebrows questioned my ability to give that up, but I assured him I could play around with boxed color and less expensive cuts.
So I carefully inspected boxes and critically eyed my own hair color, the real shade hiding near the nape of my neck, where the highlights were fewer and less pronounced.
I followed instructions and watched tutorials, used extra conditioners and ventured a shade lighter, then a shade ashier.
But despite reassurances that it looked fine, when I looked in the mirror I didn't see fine.
Month after month, attempt after attempt, I saw uneven color and a tired complexion.
I know it's only hair color.
Many days I wrap the strands into a ponytail to keep it out of finger paints or craft glue. I push it back from my forehead, damp with sweat, as I run. Abbey tears a brush through it then gently inserts seventy-seven clips and bows during Dylan's naptime.
No one cares what color my hair is.
No one would care if I threw up my hands at the mysterious rows of blond boxes and figured out what darker shade really lurked under years of color.
I didn't want to care.
But I did.
So I made an appointment and asked my mom to watch the kids. I drove to the parking garage with my sunglasses on and windows down and sipped a cup of coffee I was able to finish before it grew tired and cold.
I flipped through magazines and chatted with my stylist (and friend) about kids and planned vacations and worries about school districts, very different conversations from the ones we began six years ago.
With my head tilted towards the industrial ceiling, exposed ductwork painted a fashionable teal, I relaxed. I barely needed to look in the mirror as my hair was toweled, blond strands extending all the way to the roots.
The sparkling highlights weren't the only thing I had missed in my months away.
My steps were lighter as I walked to the car.  And each blond strand that lifted in the afternoon breeze reminded me that it is ok to carve out some time, and some money, for myself.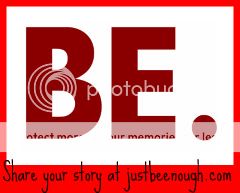 Have you heard? Next Monday, April 23rd, Be Enough Me is taking on the topic of labels with a special prompt inspired by Ashely Judd, called Change the Conversation.
It is time to look past the obvious for ourselves and our families.
We're inviting posts from voices everywhere to share your labels and who you are beyond that. The focus is whatever you need it to be– from our lives as moms, dads, parents, spouses, professionals, survivors, athletes and more. We invite you to join us, to celebrate our strengths, to celebrate our diversity, to celebrate our voices and change the conversation.
Come back next Monday for the very special link-up. We cannot wait to take the conversation by storm with our voices.