what I found after my shower one morning
perhaps I should implement a "no playing in Mommy's closet" rule
My closet is woefully small. The only things keeping the tears at bay are that Ryan has his own (matching, woefully small) closet on the other side of our room, and my wardrobe is, unfortunately, fairly small itself.
Abbey doesn't see the deficiencies in my closet and insists on playing shoe store and clothes store during naptime lately, in addition to her old favorites, makeup store and jewelry store. Her ability to strip hangers and sweep shelves clean in record time make my mini-closet even more hazardous, especially when I'm in the midst of wardrobe evaluation.
I guess it's time to toss the maternity clothes, but I can't seem to part with my wedding shoes.
Despite a mish-mash of clothing lacking in key pieces (how do I not yet own a cute blazer?), I'm cobbling together my packing list for Blissdom, and I'm once again aware of my need to learn to pack.
I haven't even added the things I'll need for the rest of our week-long jaunt to Nashville, and my list is reading like a Christmas song.
My nerves are gathering together in the packing section of my brain, compensating for my other worries about the trip by trying to guarantee I have choices about what to wear. I know it's not about the clothes, but I feel more comfortable when I feel pretty.
Hopefully by next week I'll have a better grasp on what I actually need and what I'm bringing as a security blanket.
And I'll try to leave those things at home.
After all, I need room in my suitcase for the fabulousness of the Handmade Marketplace.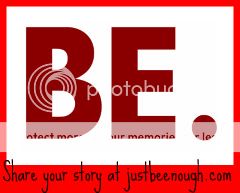 Every MONDAY join us…
Write, Post, Link-Up, share your story and your voice.
Be part of carrying the weight of confidence, empowerment and share our mission to empower, inspire,
and remind women, parents and children
that the time has come to celebrate ourselves!
What gives you that "be enough" feeling?