my bissell steam and sweep*
We pulled up the teal carpet with excitement, knowing the promise that hid beneath years of dust and the hazardous tack strips and carpet nails littering the scarred wooden floors.

Having our floors refinished was one of the first projects Ryan and I tackled in our house, though our version of tackling meant calling and hiring someone who wouldn't be likely to let the sander wear through the remaining layers of wood.

For days we wandered back and forth between the addition and the kitchen, moving between our two back doors to avoid the heavy drapes of plastic and untouchable varnish, spending time anywhere but home to breathe without gagging on the fumes.

Refinished and beautifully polished, they were a reminder of the potential lurking within the walls of our work-in-progress old house.

For years I worried about their shine, keeping a static mop in the closet for basic dust issues, a broom for sweeping, and Murphy's Oil Soap for periodic cleanings when I noticed some of the shine fading from their glossy darkness.

Kids brought a whole new dimension to our floors.
A pulverized cheerio settles into the grooves of the floor, the varnish no longer impenatrable. Sippy cups thrown in gleeful games subtly mar the surface. Errant crayons smear waxy streaks near the dining room table.

The Murphy's Oil Soap sits neglected, the gleaming surface of my floors a memory like lazy weekend mornings when it didn't matter if a corkscrew was left at the edge of the kitchen counter from the night before.

I've streamlined my cleaning routine: one little magic machine that picks up crumbs and steams the floors into a sanitized surface, warm and clean but lacking the reflective shine and slippery clean of my old stand-by.
There are moments I miss the shine. But then I see Dylan trailing behind the steamer, trying to figure out why my path is wet and a little hot and why one of the buttons makes a whirring sound and one does not.
And I remember that there's always more than one way to shine.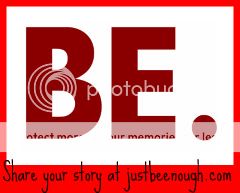 Every MONDAY join us…
Write, Post, Link-Up, share your story and your voice.
Be part of carrying the weight of confidence, empowerment and share our mission to empower, inspire,
and remind women, parents and children
that the time has come to celebrate ourselves!
What gives you that "be enough" feeling?
*This is NOT a sponsored post. Bissell has no idea who I am or that I'm writing this or that my mom bought me this lovely member of our household as a Christmas gift two years ago. I just love having sanitized floors in the amount of time it takes to sweep the room.