Some of my most heartfelt posts are cushioned with this button: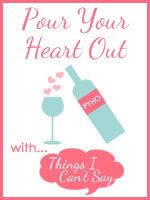 Linking up with Shell and her lovely group of readers allows me to spill my random thoughts in a supportive environment, and I am so honored to be sharing some of my heart over at
Things I Can't Say
today.
I'd love it if you
came over
and read about how I felt when snuggling this little cutie.
If you're visiting from Shell's place, feel free to wander around. Sometimes I
worry
, sometimes I
gush
, and sometimes I wonder how to
get through it all
.
And speaking of cuties? Look at this little guy!
Dear Dylan,
Today you are two.
You are curls I can't bear to cut.
You are trains and dinosaurs, one in each hand.
You are a willing companion to Abbey's imaginative games, grinning and laughing and following her lead, even when she's calling you a prince or taking you to yoga class.
You are burgeoning speech, surprising us with your words, pronouncing "dine-sore" before simpler words of less importance to you, sweetly adding "please" with each "more," making it a little thrill to hear you ask for more milk at dinner, even though I've sat down mere seconds before the request.
Dylan's first birthday party
that shirt was never the same
You are "DD!" when you spot your reflection and the mispronunciation of Abbey into Addie that I just can't correct quite yet.
You are frustrating laughter when I tell you "no."
You are a heavy head on my chest when you're exhausted and spontaneous hugs and the always endearing "Care-You" when you want to be snuggled onto my hip instead of walking outside yourself, though you run quickly from us whenever your feet hit the ground, turning to laugh with glee as someone chases you back to safety.
You are singing along and bouncing in rhythm to the music.
You are paging through books and sinking warmly into my lap to hear "A Fish Out of Water" or "Hop on Pop" or "Curious George Rides a Bike." Again and again and again.
You are such a boy, when I was a so nervous about raising a boy.
December 31, 2011
You are the contradictions of loud yells and the stillness of sleep under your favorite blanket, a mix of frantic energy and contemplative play.
You are my heart, little Dyls.
Today you are two.
And you are so loved.
Love Always,
Mommy