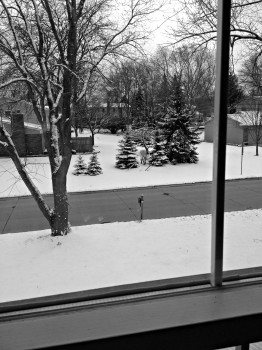 I had to scrape snow and ice from my car this week.
Tile installation coincided with the season's final — yes, I'm daring to say final — snowfall, and my car has been in the driveway for days. My hands chapped in minutes, my gloves tucked away in some corner of the house I couldn't reach for fear of disturbing something that might eventually lead to cracked grout. Or something.
Snow fell again Monday night, and record books declared this winter the snowiest ever.
I hadn't needed official confirmation, but now we have it, and I hope the weather fairies are finished with us this season.
I didn't have the energy to express much indignation over this snowfall. Our contractors steadily installed cement backer board, and the tile pattern settled into place, and Dylan and I wrapped ourselves in blankets and watched Paw Patrol.
Snow muffles sound, and when the sun stays tucked behind the clouds, it muffles more than that. My finger swiped over the weather symbol on my phone, and when I saw sun in the forecast, I let that last snowfall quiet our day.
Even spring needs an intermission.
Does the weather affect your mood?
{ 1 comment }