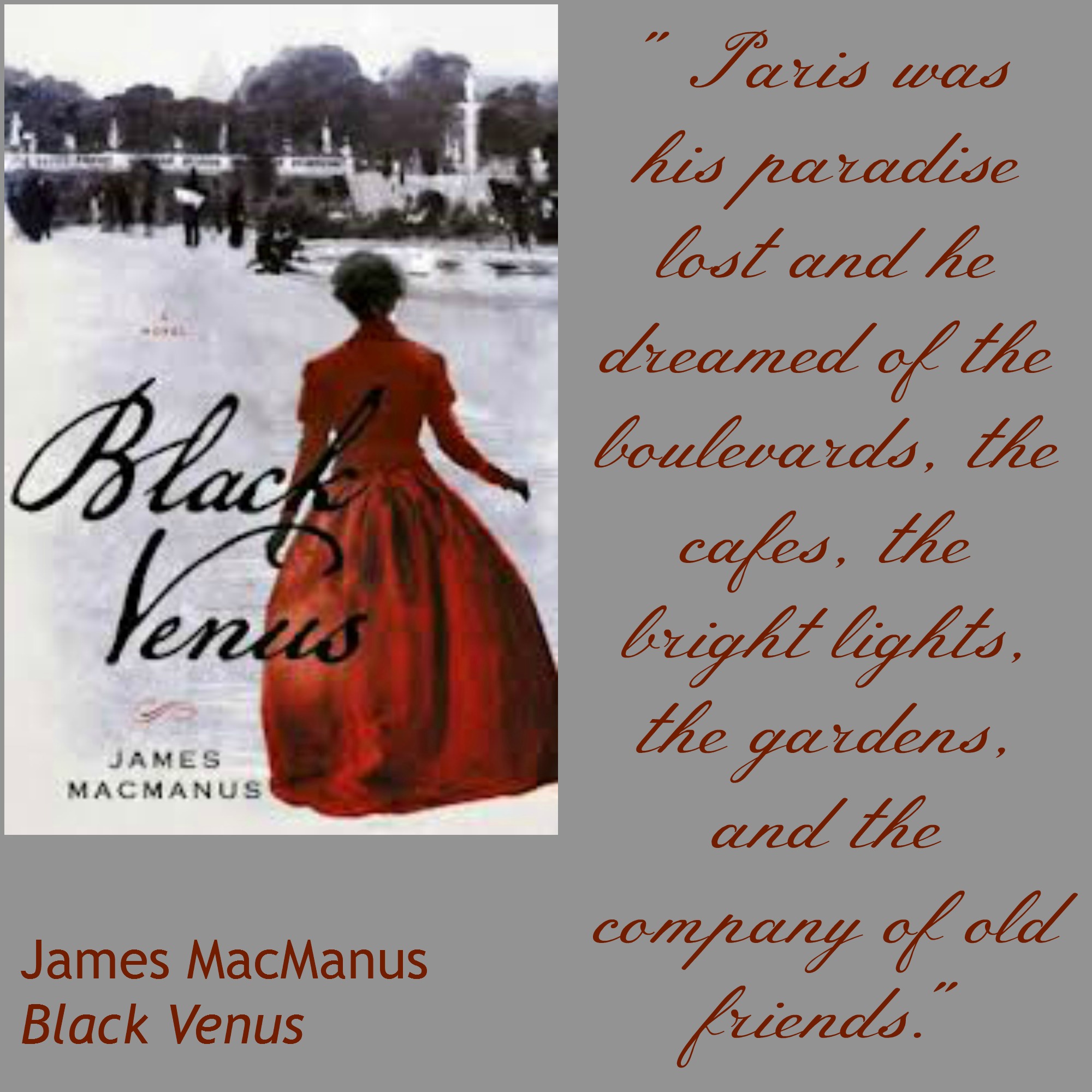 Paris holds a bit of magic within the city's borders: passion and creativity sparked on streets teeming with beauty and decadence, even the unwashed underbelly of times past is romanticized in tiny garret apartments. I've written before about my fascination with the artistic community of 1920s Paris, and James MacManus's novel Black Venus reminded me of a concept explored in Midnight in Paris: each historical age holds immense appeal to those who come after it.
Black Venus is a historical fiction novel based on the creatively fertile, yet personally contentious, relationship between Charles Baudelaire and Jeanne Duvall. Baudelaire is know for art critique and literary translation but is also one of France's greatest poets; his work Les Fleurs du Mal (the flowers of evil) was a modern work exploring the dichotomies of human existence, often grounded in graphic, erotic images inspired by his cabaret artist mistress.
Baudelaire and Duvall's relationship was fraught with mutual affairs and contentious arguments over money, which neither of them had enough of and manipulated from Baudelaire's mother at every possible turn. MacManus does a wonderful job showing the compelling, dependent nature of their relationship without lulling the reader into believing theirs was an affair founded on true love or romantic destiny.
Black Venus weaves their relationship into the greater fabric of Baudelaire's life, including his business relationship with his publisher, his tangled, confusing dependence on his mother and his philosophy regarding his poetry and desire to move beyond the Romantic work being produced around him.
Baudelaire was determined to write about the all-encompassing contrast between good and evil, and his lush, evocative imagery is echoed in James MacManus's prose throughout Black Venus. Readers will feel transported to 19th century Paris, a place where Baudelaire and Duvall buy clothes on the credit of his mother's name and the line between cabaret singers and high-society mistresses is birth and chance and not attitude nor behavior.
MacManus's novel shines when writing about the landscape of Baudelaire's Paris and his fevered dedication to the city and the life he wants to lead, even when he finds himself dodging creditors by moving constantly and cursing pharmacies for not supplying him with suitable amounts of laudanum — the liquid form of opium Duvall uses to entice Baudelaire to her bosom whenever he attempts to break their entangled bond.
Watching Baudelaire's descent into literary pornographer, abandoned by his more famous friends at an obscenity trial, is painful. Knowing his work would later be considered innovative and a cornerstone of France's literary tradition was a small solace as his personal life descended into disaster.
Black Venus will thrill literary enthusiasts, historical fiction fans and philosophers who ponder whether or not greatness in art must come from suffering.
If you could transport yourself back to another era, which one would you choose?
I received a copy of Black Venus by James MacManus for the purposes of this review. No other compensation was received, and all opinions are my own.