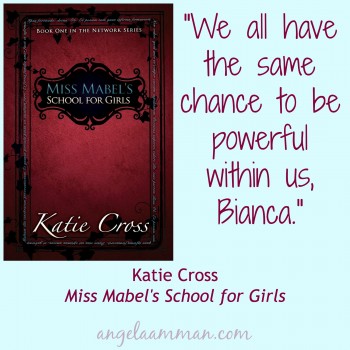 Witches hold a strange sort of power in stories. I can remember playing The Wizard of Oz with my friends when we were kids, taking turns being Glinda, because she had the prettiest costume. Abbey's Halloween costume this year was the Wicked Witch, but she was more interested in the oversized shoulder pads and giant emerald brooch than any of the witch's actual misdeeds.
One of the interesting things about Miss Mabel's School for Girls by Katie Cross is that this story's "wicked" witch is stunningly attractive, her maliciousness buried inside a beautiful package. There's a danger in writing about something so universally popular, like witches, because there's a need to balance a sense of the familiar with an original story.
Miss Mabel's School for Girls has many of the things you'd expect from a story about a girls' school for witches — spells, jealously, some clairvoyance and an uneasy threat of danger lingering in the very place that should be safest for the girls. There's also a great deal that shows Cross's foresight in world-building, with a governing body in place for the witches, grumblings of past revolts and talk of border disputes.
Cross does a really wonderful job with the pacing of the story. There are secrets lurking within Miss Mabel's School for Girls, and the reader knows not all of them will be revealed this story, as it's the first in a series of books. However, readers won't be disappointed at the end of this book. Many of the questions that arise throughout the book are answered by the conclusion, though — of course — more are raised.
Cross's characters truly come to life as the book progresses. Bianca Monroe, the main character, has been raised knowing she would eventually have to face the powerful witch who cursed her family long ago. Her tenacity and single-mindedness are nicely balanced by the more relaxed personality that comes through when she becomes friends with two of the girls in her class.
Leda and Camille are interesting characters in their own right — one knows exactly what she wants and has the ambition to get it, and the other is unsure where her talents lie. Camille's uncertainty is a welcome addition to a young adult story, because that feeling of not being exactly sure what to pursue is so relatable. The trifecta of friends manage to balance each other very well in this first story, and readers will be interested to see how the friendship plays out in future books.
Miss Mabel's School for Girls brings an original voice to the story lore of witches, and readers who enjoy YA will especially want to start this series before Cross's next book arrives.
Do you have a favorite witch series? (I love Harry Potter and the Mayfair Witches, as different as they may be!)
The Tipsy Lit Book Club is discussing Miss Mabel's School for Girls Friday, July 31 at 8:30 p.m. EST. Like the book club page on Facebook and join us to chat!