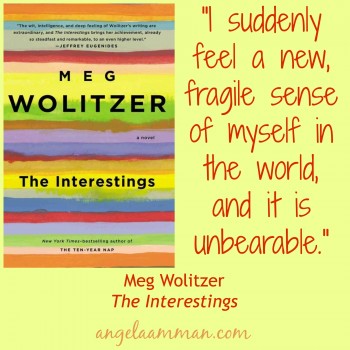 For a brief period in college, I obsessively looked at applications to be a counselor at a sleep away camp. After having a rollicking good time for two summers as a day camp counselor, I wanted to take the job up a notch. Deterred by bugs and logistics, I took a job at The Gap instead, and after reading The Interestings, I'm glad I did. Meg Wolitzer's novel proves what I suspected back when I was a sophomore in college — summer camp can be transcendental for the campers, but counselors are just background players.
One summer in the 1970s, six friends bond over vodka and Tang cocktails in their summer camp teepee. Their lives and their paths are knit together that summer, and The Interestings follows along as they broach young adulthood and drift into middle age.
Jules Jacobson is born that summer. She previously lived as Julie Jacobson, a girl who might have been happy doing anything at all until she met her lifelong best friends Ash and Ethan and discovered she has an interest in comedic theater. Each of the six friends finds themselves in varying degrees of interest in artistic fields, from animation to dance. Of course, their levels of talent vary as well, and Wolitzer doesn't gloss over the struggle between talent, ambition and practicality.
Not all of the six friends will end up doing what they dreamed of that first summer. In fact, not all of them will end up remaining friends at all, and the friendships that thrive also wade through the emotional waters of envy, jealousy and questions about whether people really change from their teenage selves — even if everything changes.
I adored The Interestings, and I could ramble about it for many, many words — anyone want to chat about it? Since I doubt anyone's interested in a dissertation-length review, here are three specific reasons it settled into my "must purchase*" list.
I have a mild 80s obsession, and there was something compellingly voyeuristic in watching the friends navigate 1980s New York City as young adults.
Wolitzer's ambitious scope, sweeping through the years and varying points of view of the characters, worked for me in a visceral way. I felt like I could understand each character's motivations, even when I cringed at some of their actions and emotional reactions throughout their lives.
The observations about art, artistic expression, talent and economic advantage are fascinating. As a writer who always wanted to be a writer but who has taken several side steps along the way, the challenges of making a life out of something you love resonated in a way few stories do.
The Interestings layers storytelling, characters, social commentary and nostalgia in a way that makes me excited to read more of Meg Wolitzer's books. My only regret is that it took me so long to find her work.
Do you think you've changed, fundamentally, since you were fifteen?
*Disclosure: I borrowed The Interestings from our library.